Everyone has a different definition for what constitutes a good time. For the three of us it's oftentimes finding some neglected yet fabulous piece of the past and rescuing it. Reinventing it to be something to treasure going forward, not just revering what is from the past. This breathing new life process is an event for us start to finish. 
It usually begins with a text or two of "Gasp! Look what I found" that leads to a drive featuring frothy beverages and good conversation. Next comes the planning and designing. It may take awhile til we hit just right. Then there's the execution and all the details and decisions that come with creating what we imagine. Finally it's done and we photograph and fuss til it's captured. This process takes all three of us. And we love it.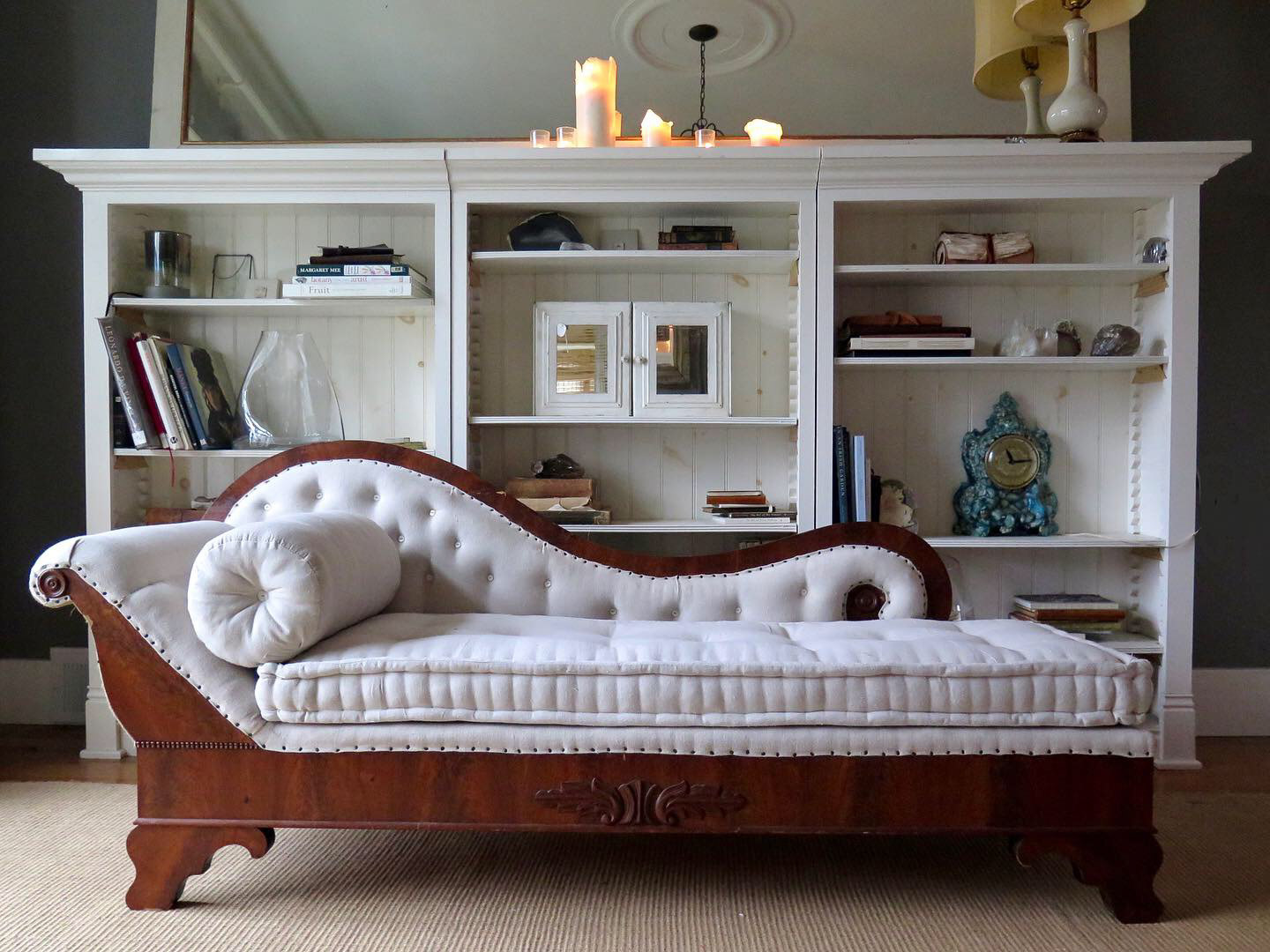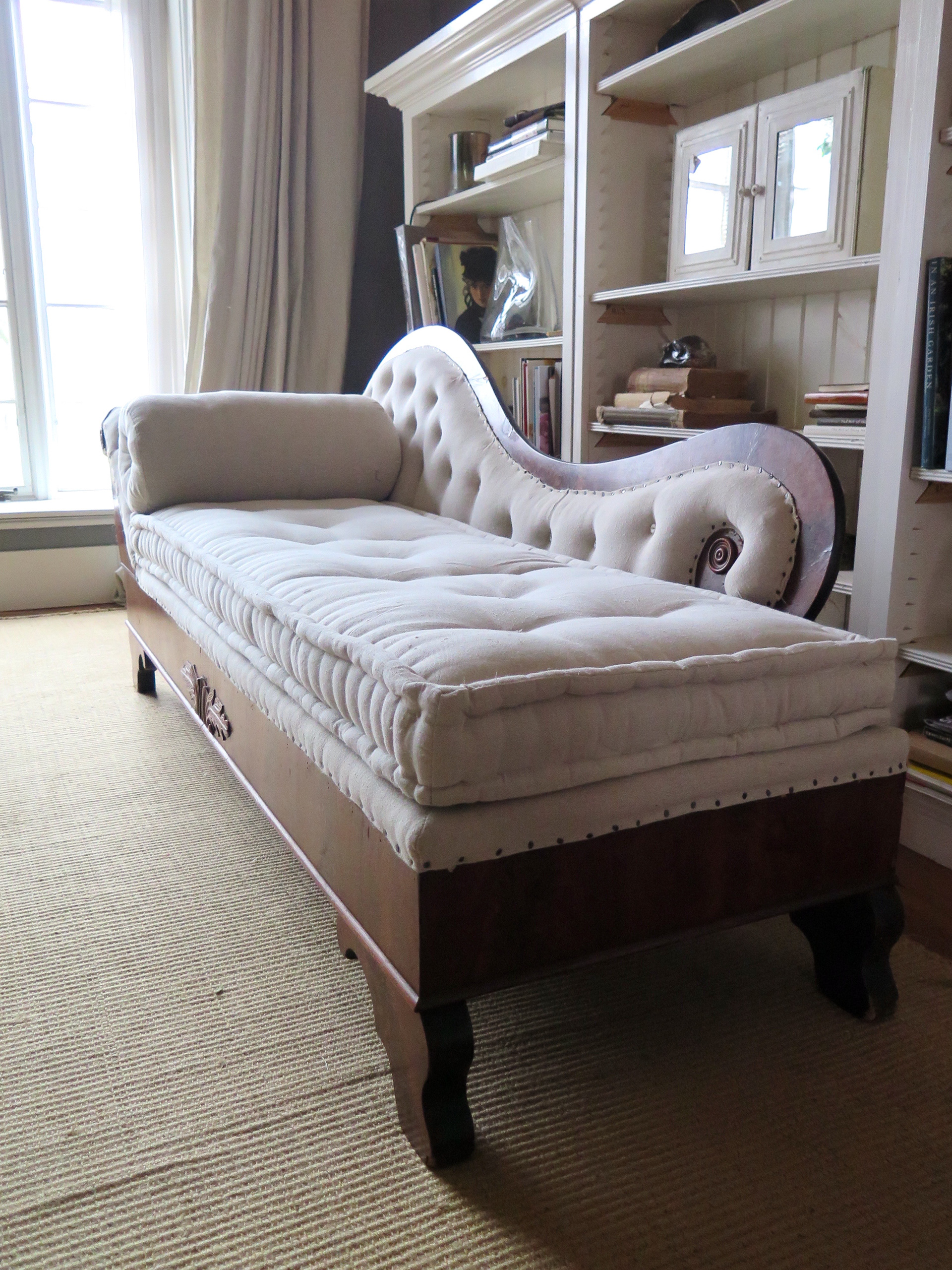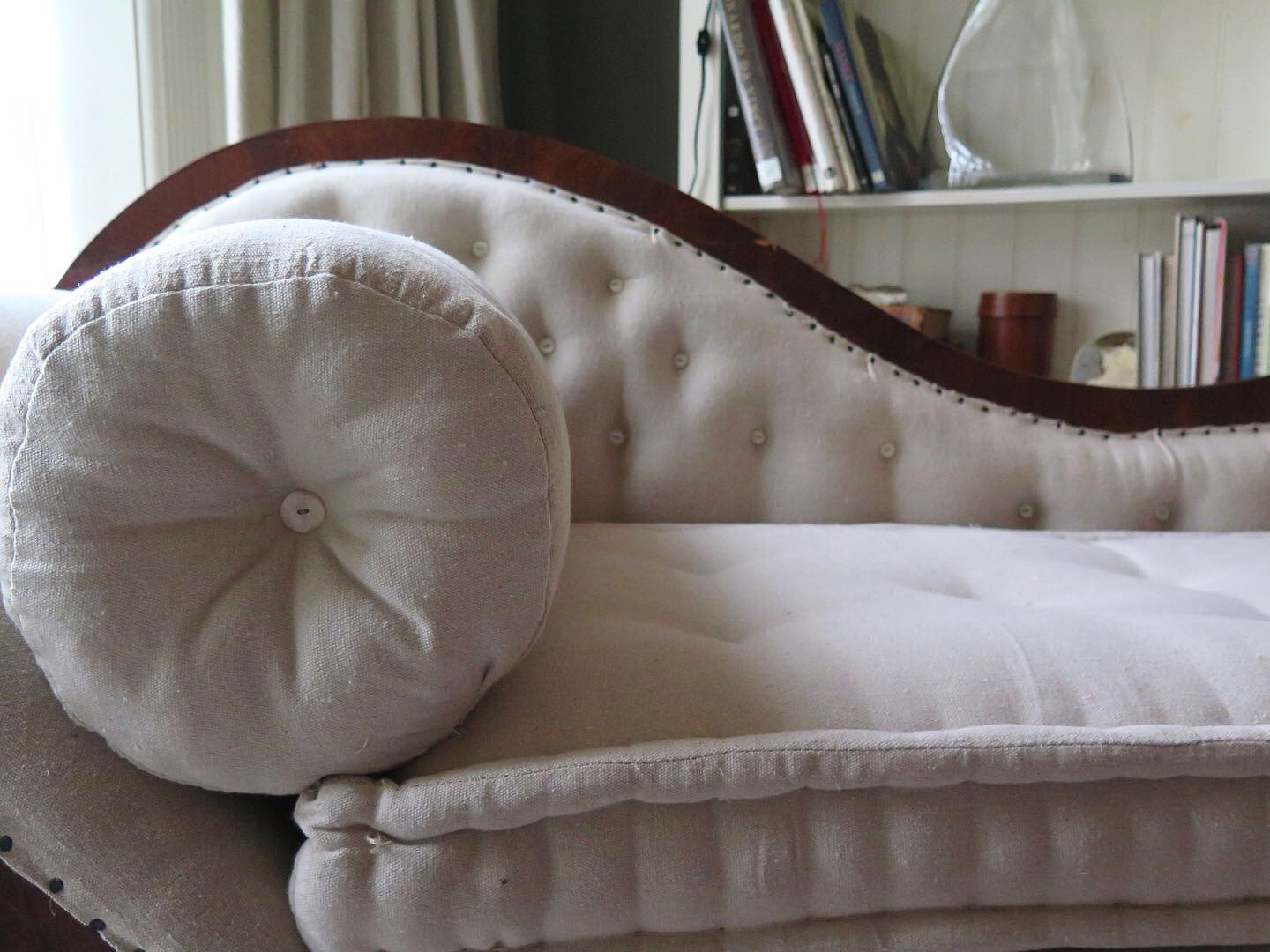 This couch from the 1800's is a true antique, but it has been completely restored and updated.
This beauty has 8-way hand tied springs under a hand-stitched French style mattress. It features a serpentine deck which was repeated in the seat cushion and floral bouquets on the carved wood top edge. It has a pleasantly firm seat and is structurally sound once again. 
Upholstered in natural cotton it is truly one of a kind. The silhouette of the back is incredible (Juls and I have been drooling over it), which means it would look amazing floating away from a wall. The frame has some veneer lift on the wood arm tops which we opted to leave intact as a nod to the piece's history, which is something we're always into honoring.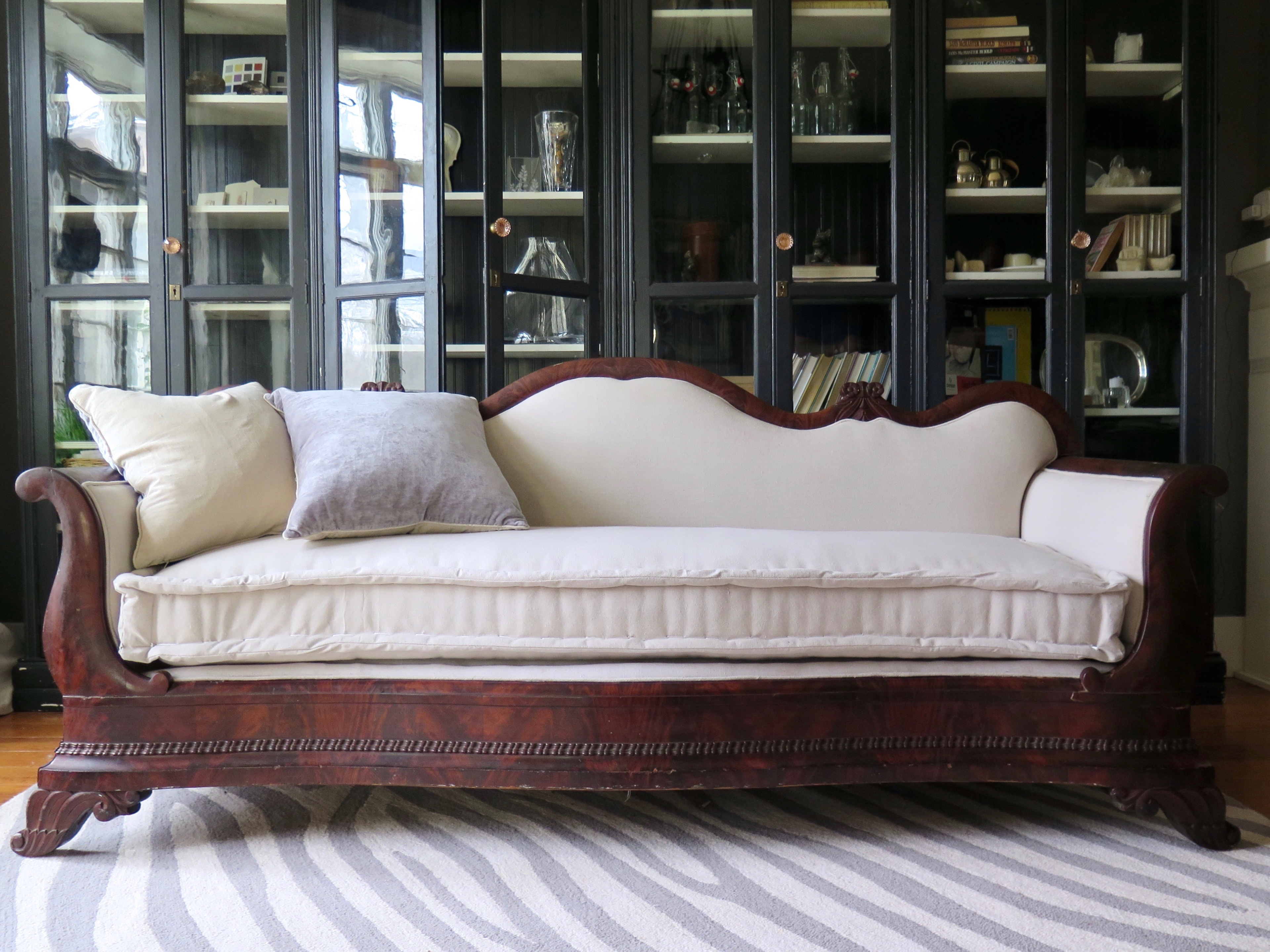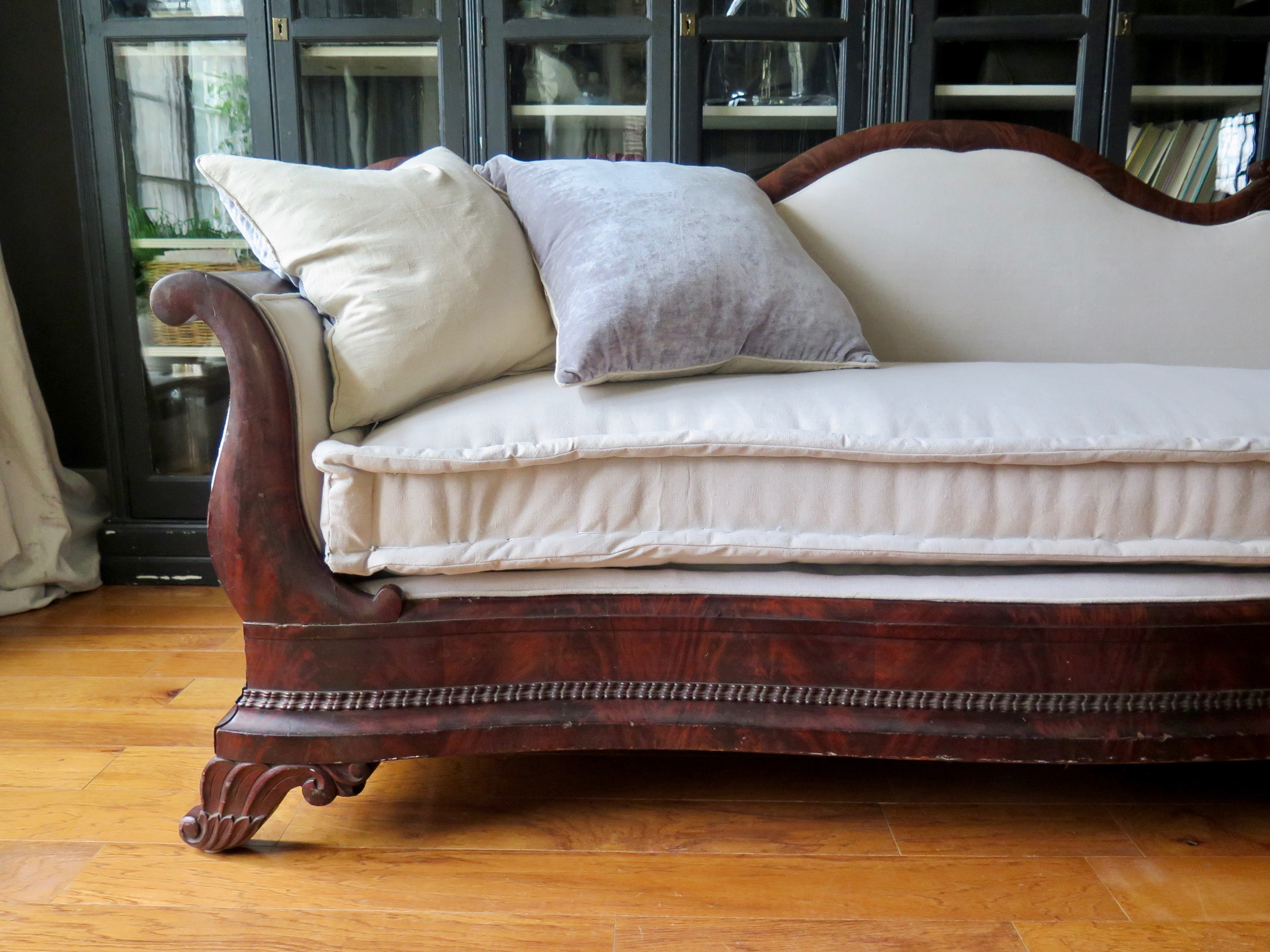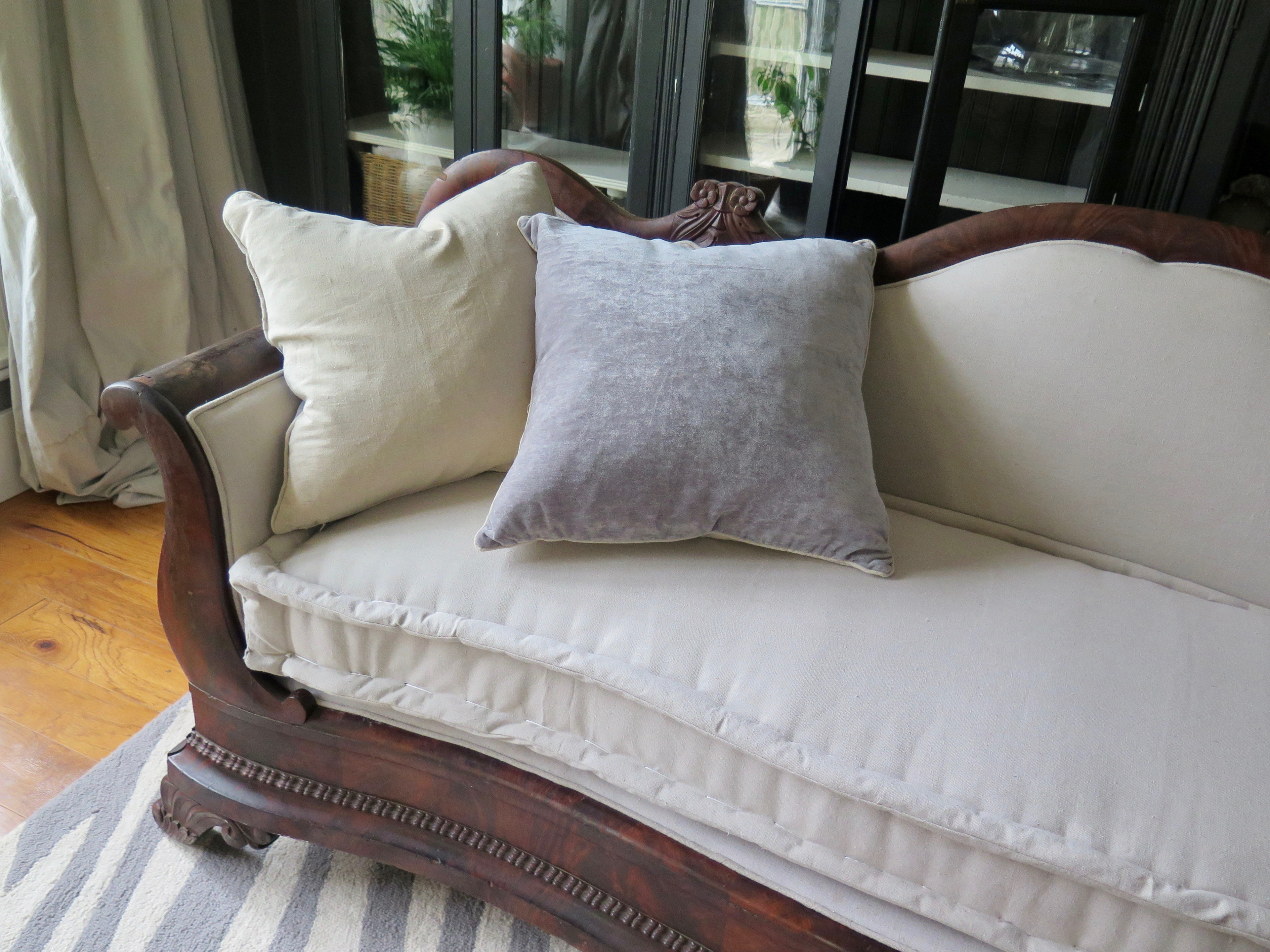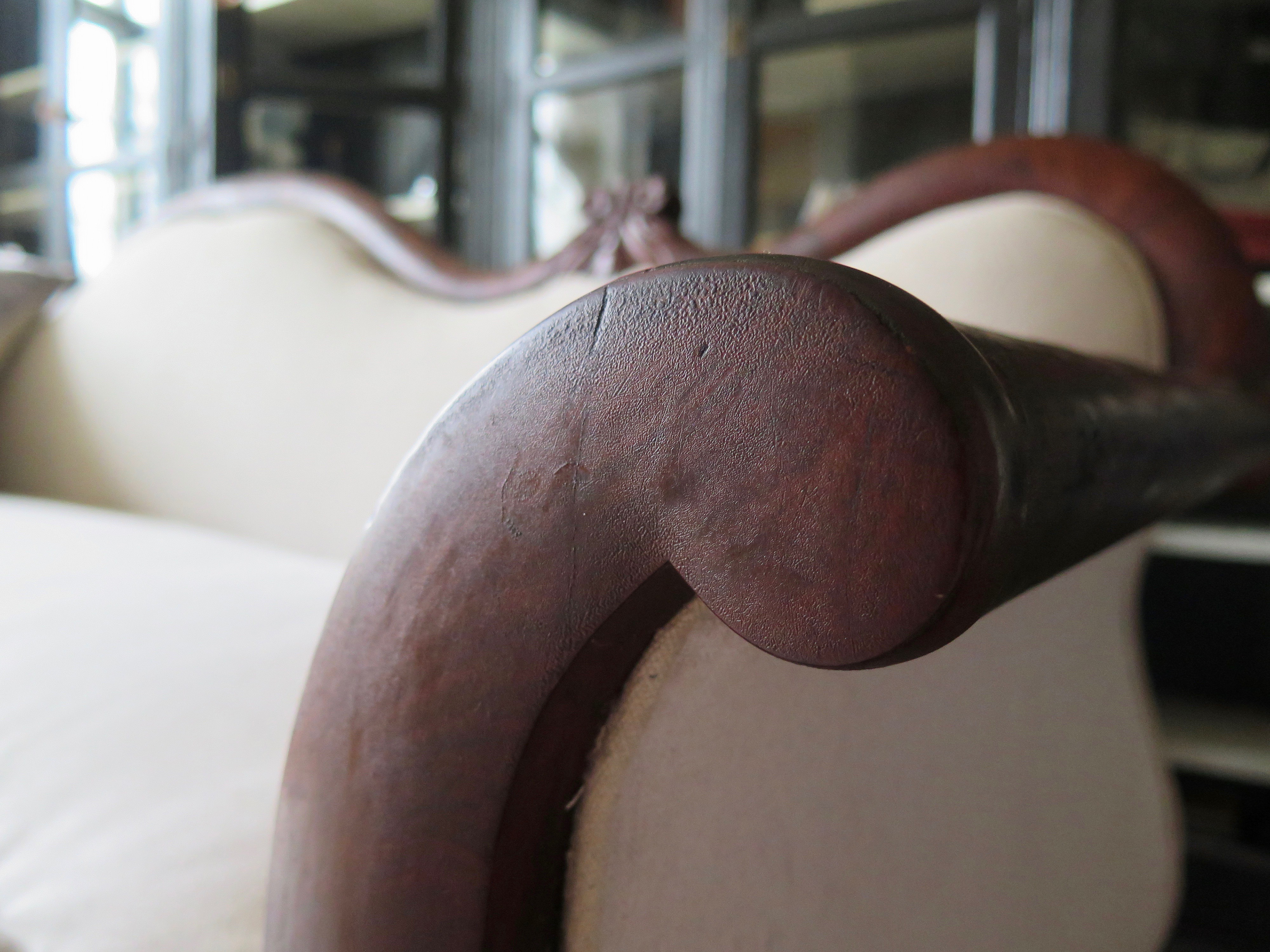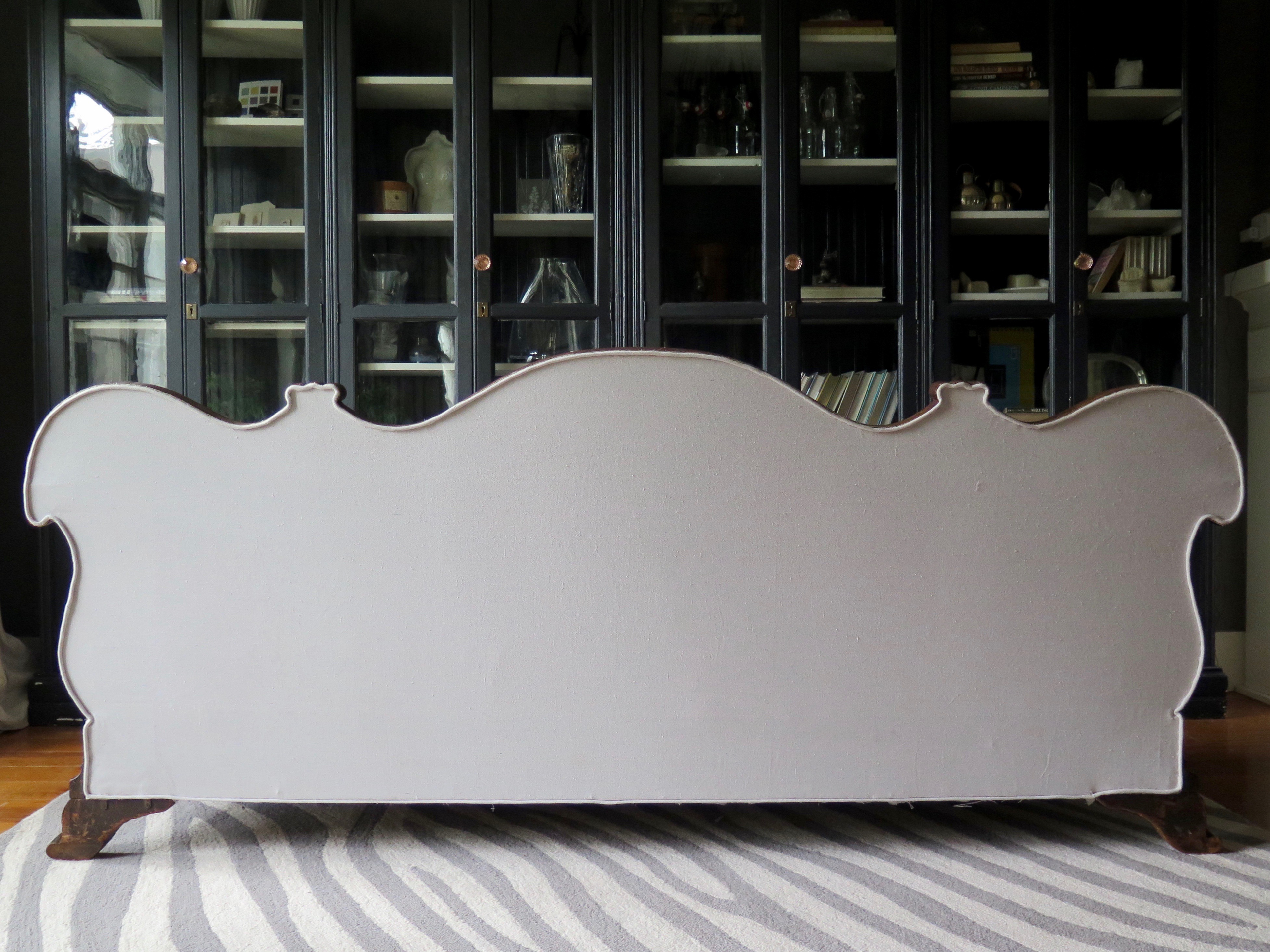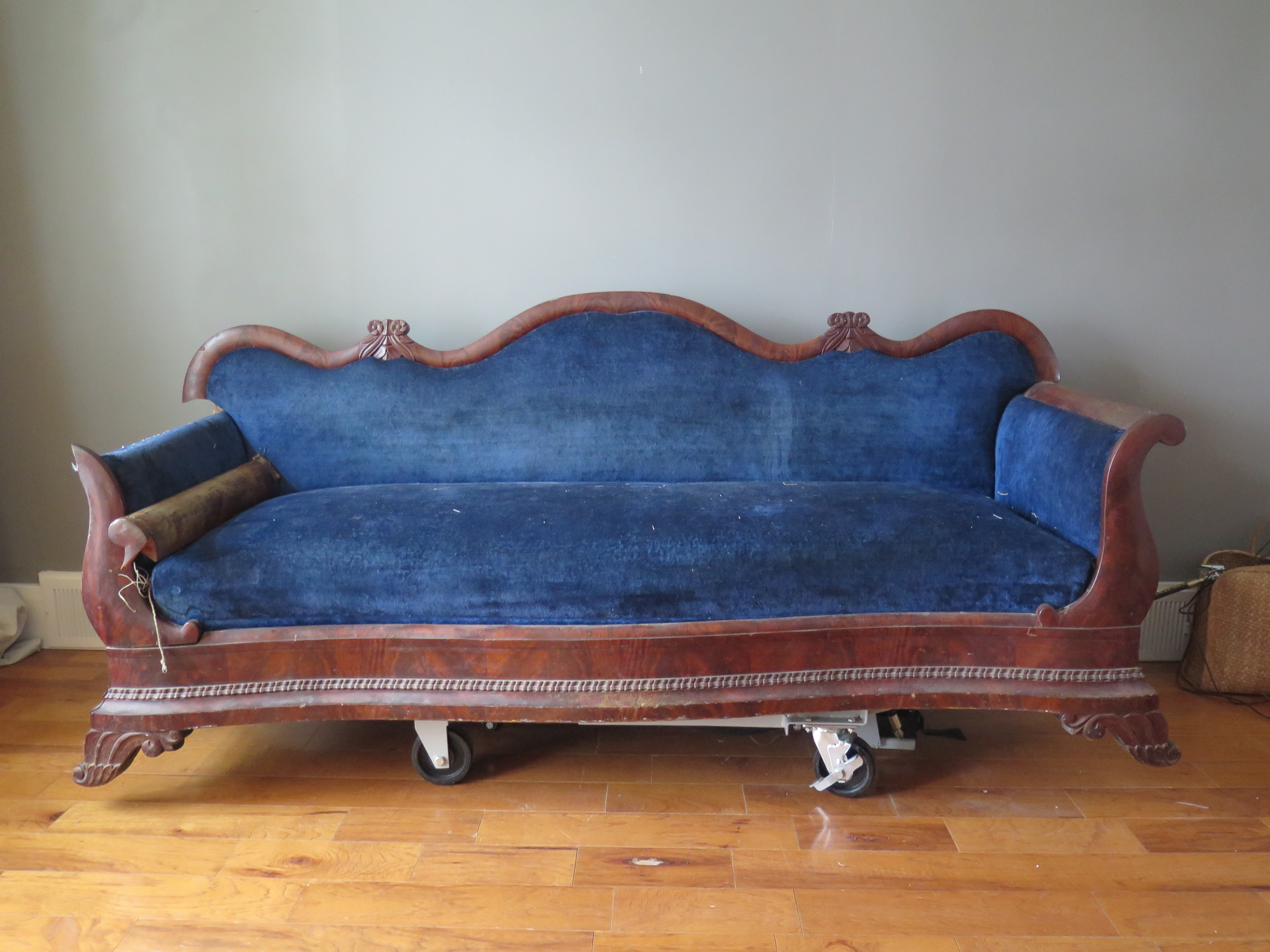 Aren't they sumptuous?  Restoring these chairs from the 1920's was thrilling. In order to truly do them justice the client opted to go with genuine mohair velvet and individually tacked nails (no strip nails for us).
Which brings up an important point, so shall we discuss fabrics for a second? In researching fabric options for the owner I found this from DecorativeFabricsDirect.com: "Mohair is a very plush, durable and resilient velvet upholstery fabric that is shorn from Angora goats. It can be dyed in rich and beautiful colors and has great insulating properties. It is resistant to moisture wicking, stretching and creasing and is inherently flame resistant."
After working with it we can attest it is Glorious. Put simply, there is so substitute for its lustre, durability and longevity. Summing up, if you're debating the added expense this spectacular fabric costs, my best advice is budget somewhere else and splash out to have something you will Revel in for many years to come.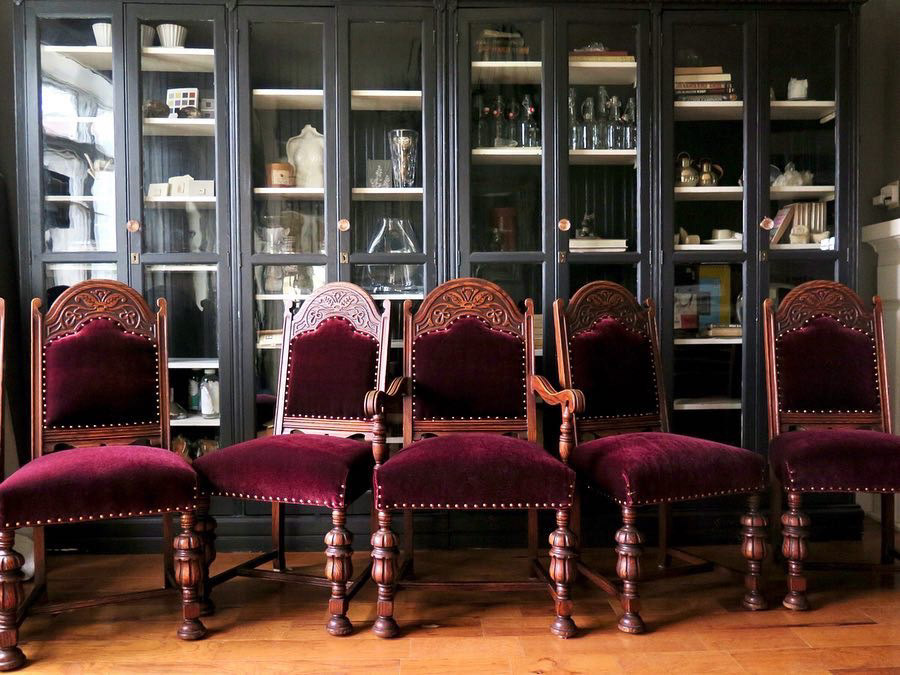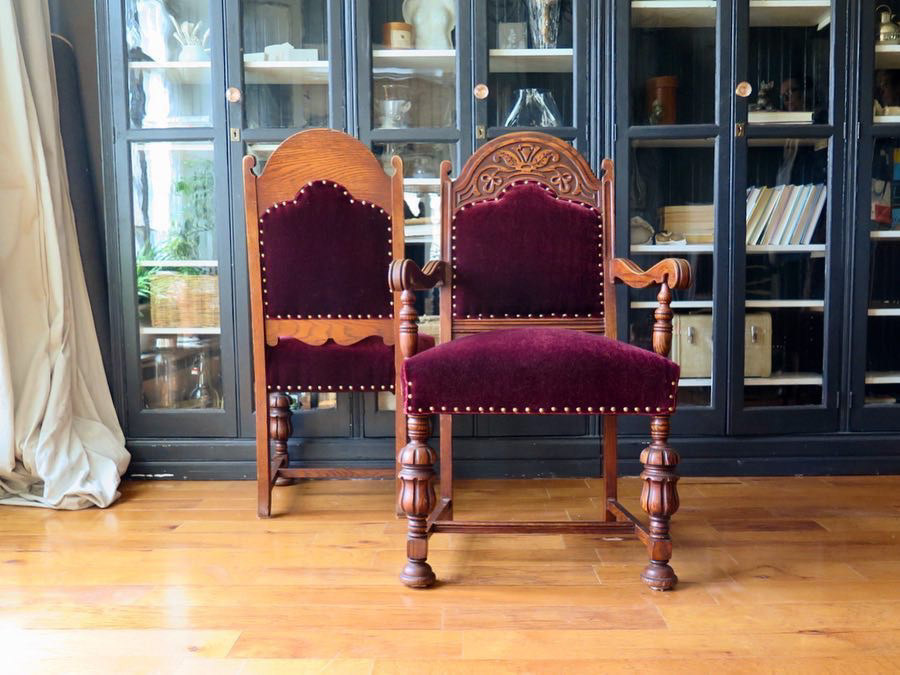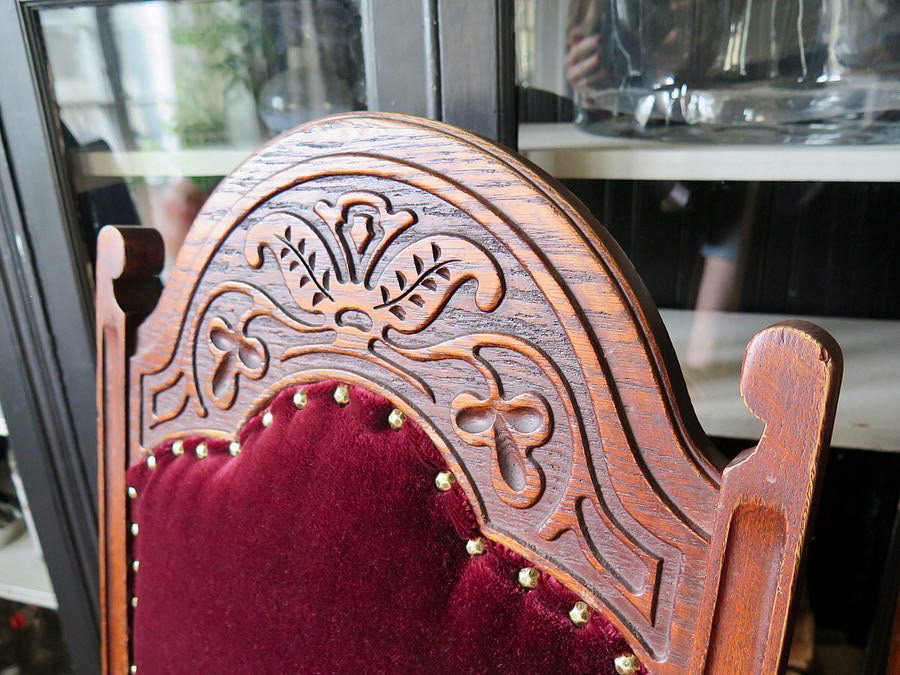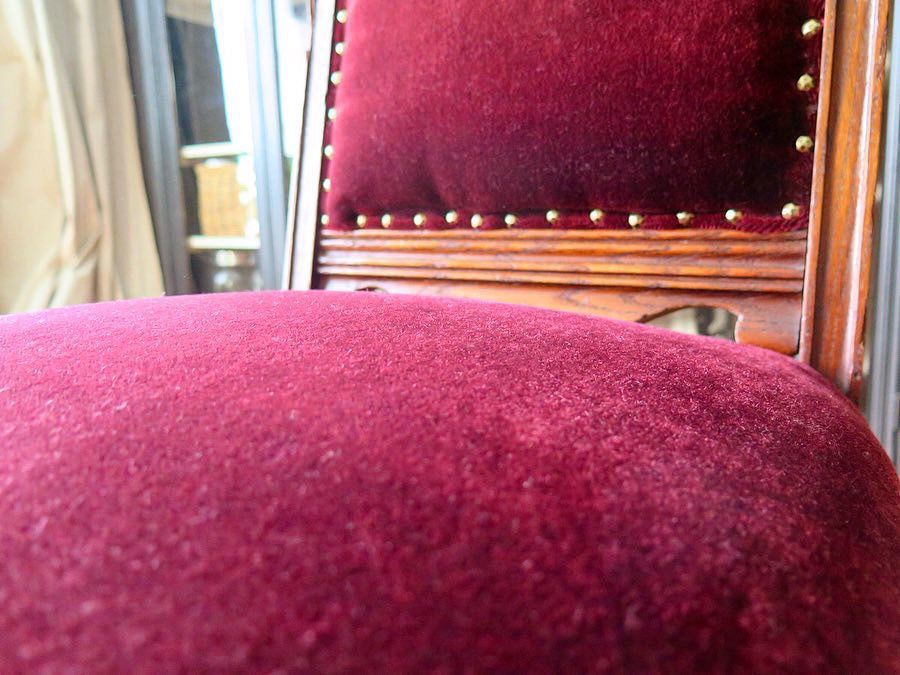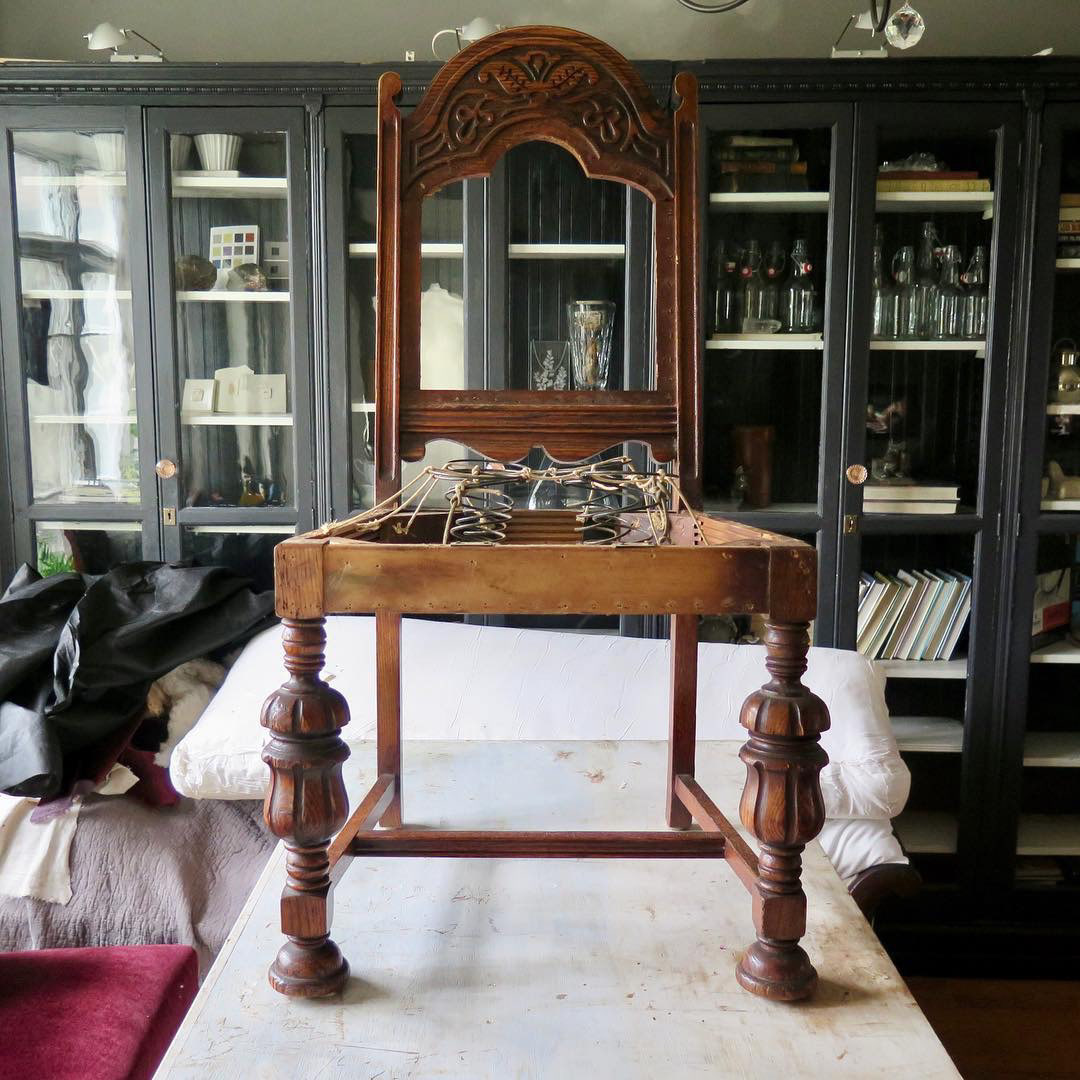 The Roundabout Road Home

Sometimes furniture takes a journey and I'm just along for the ride. Take this sofa for example: a friend contacted me, saying that he had purchased a sofa that he wanted to have reupholstered.  When we went to pick it up, we discovered that the Clayton Marcus sofa had been neglected, corrupted by animals, and was in sorry shape. However, the frame remained in perfect condition and it had great lines. Hello rescue. Before reupholstering, we needed to see what it looked like in his living space.  Thus, we finagled it into the apartment and deliberations were made. I went back to pick it up and we had to finagle it back out. Think Friends and #pivot so out it went down the horrid stairs. Later on, he found a different couch to use instead. Which was great, however, that left this little sofa that just wouldn't die. Ok, I couldn't let it die #leavenofurniturebehind. 
In the meantime, it was left in the back of my work area to collect dust. Hibernating, if you will.  Soon after some clients of mine heard about The Couch That Could and decided they wanted to bring it back to life, so at last here it is: restored, loved, and ready for a new home.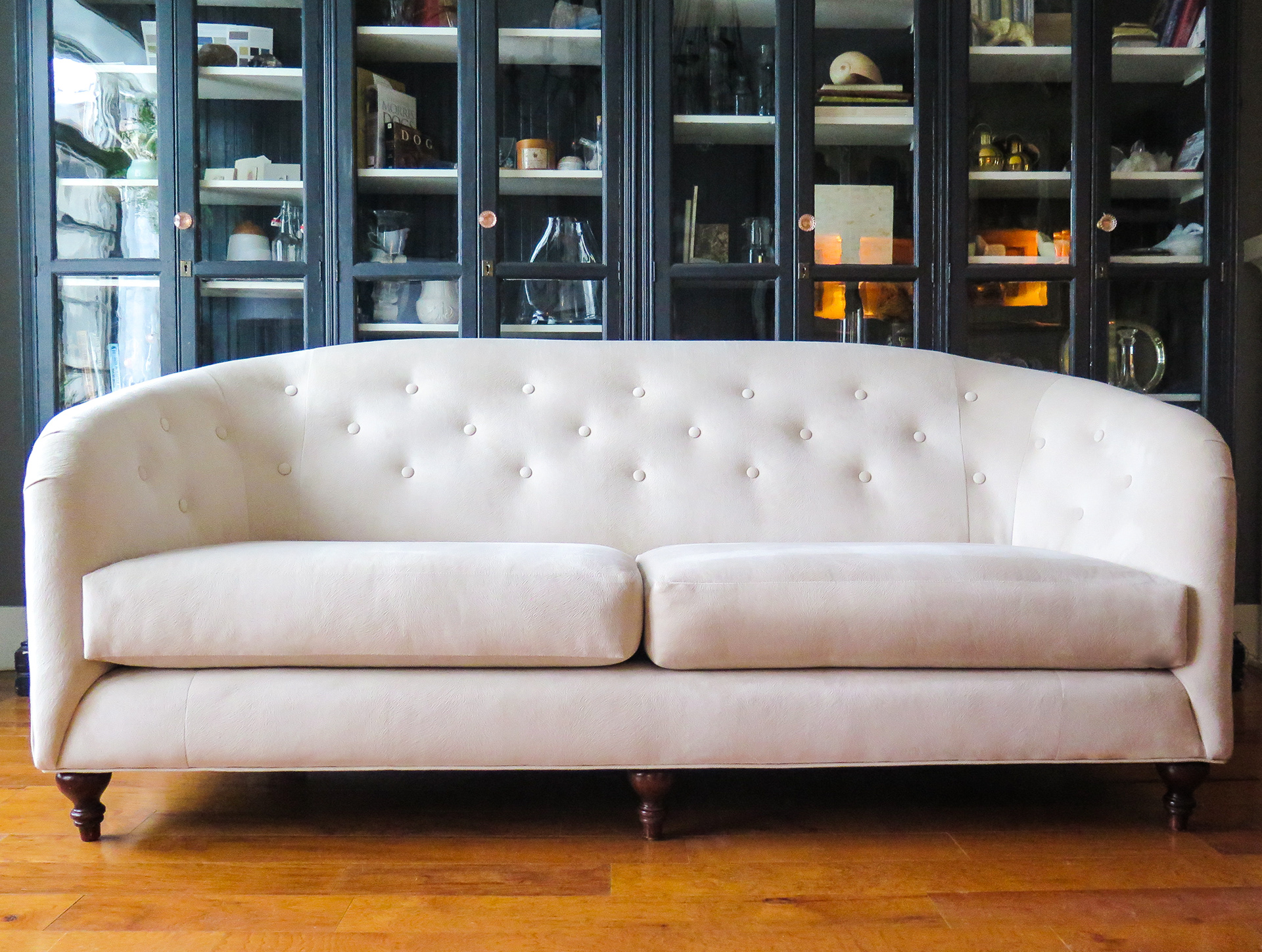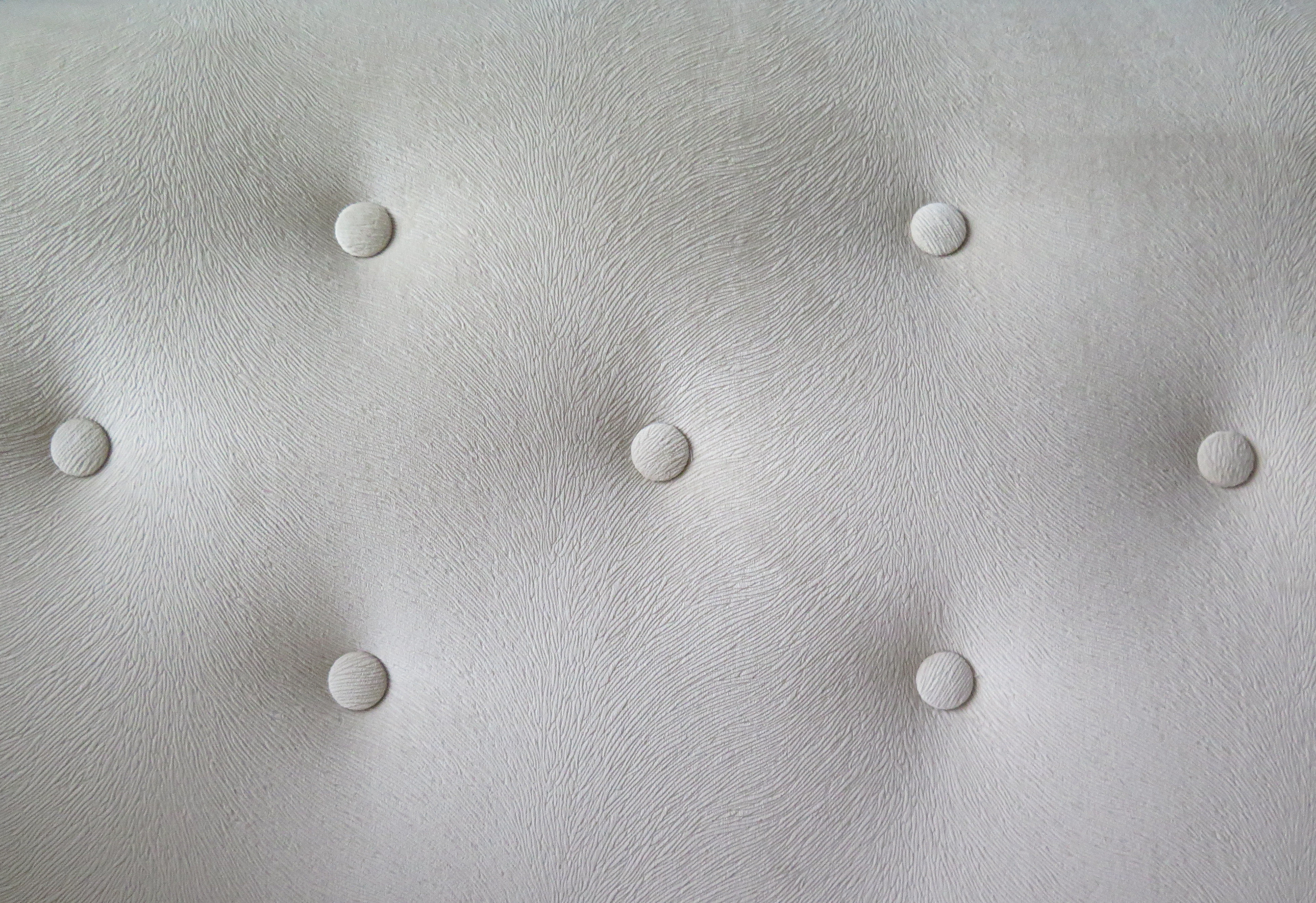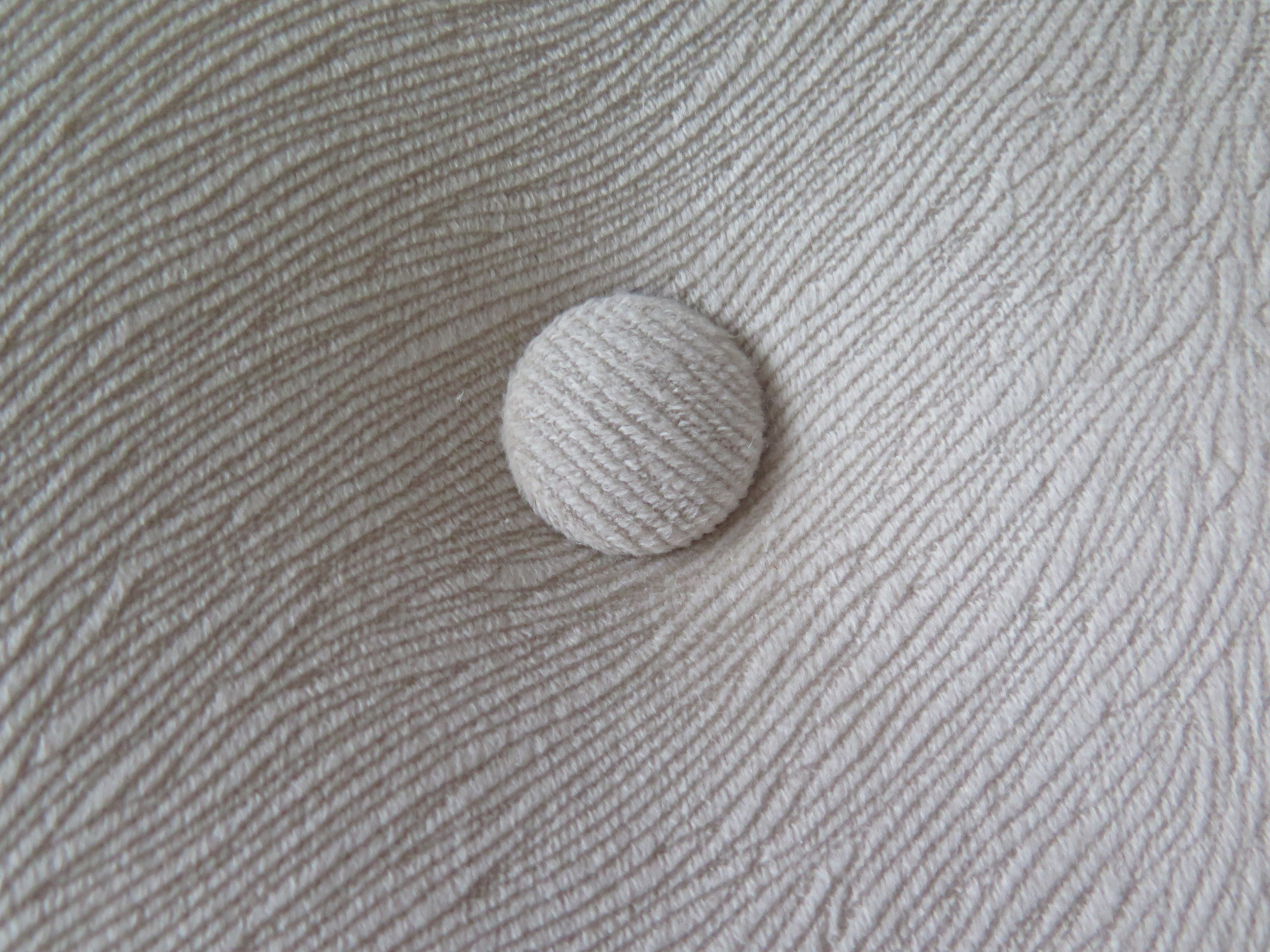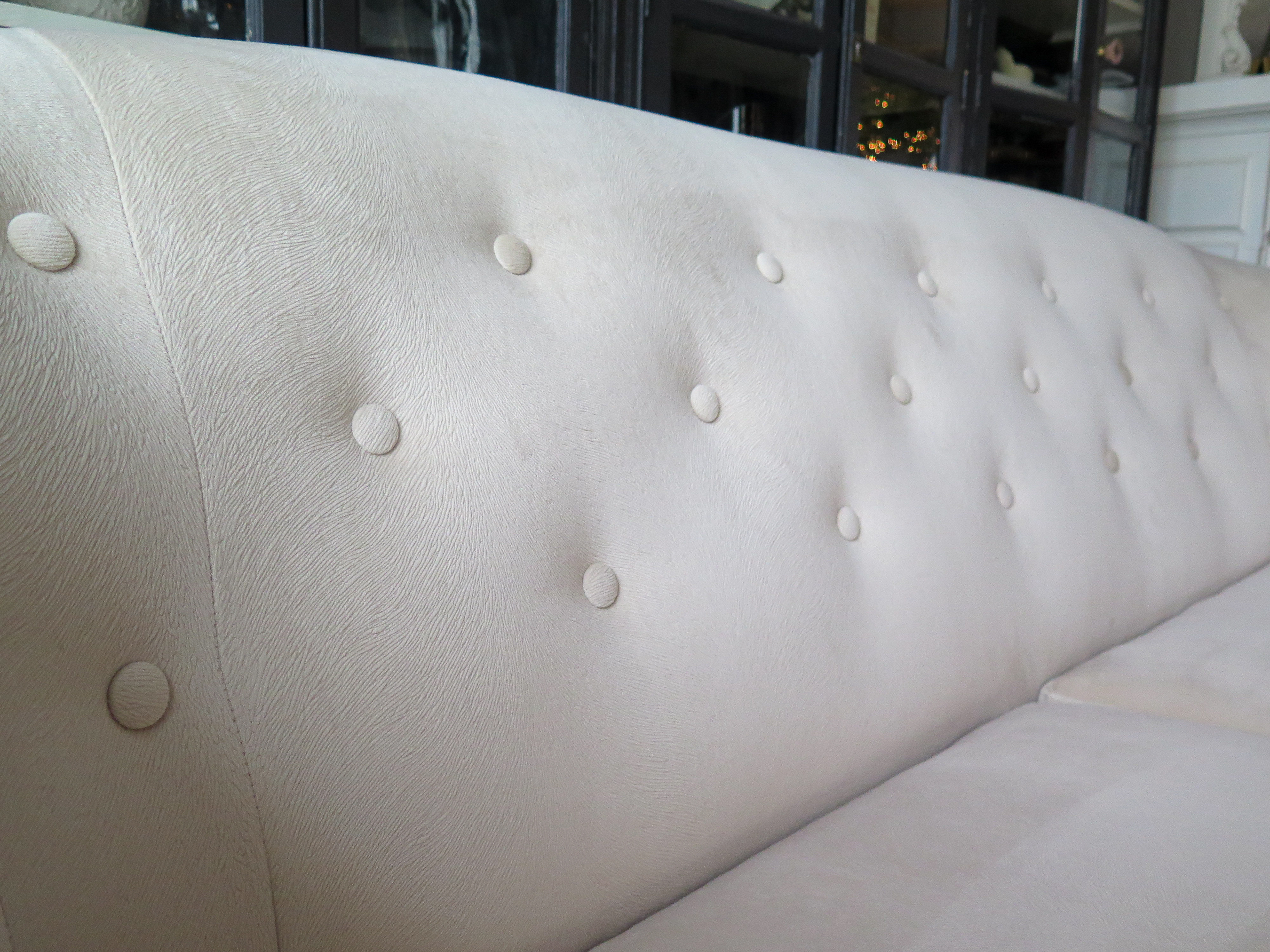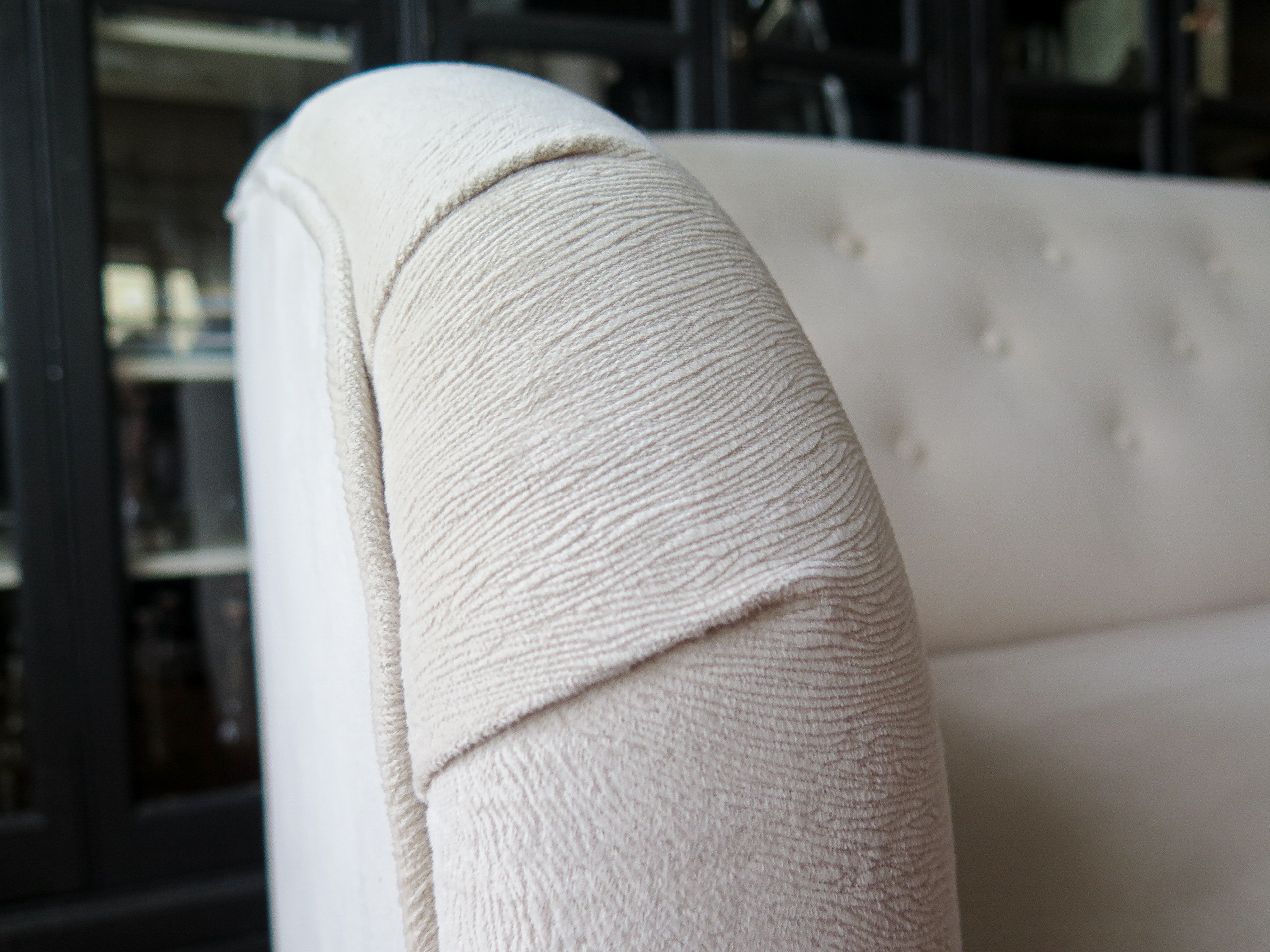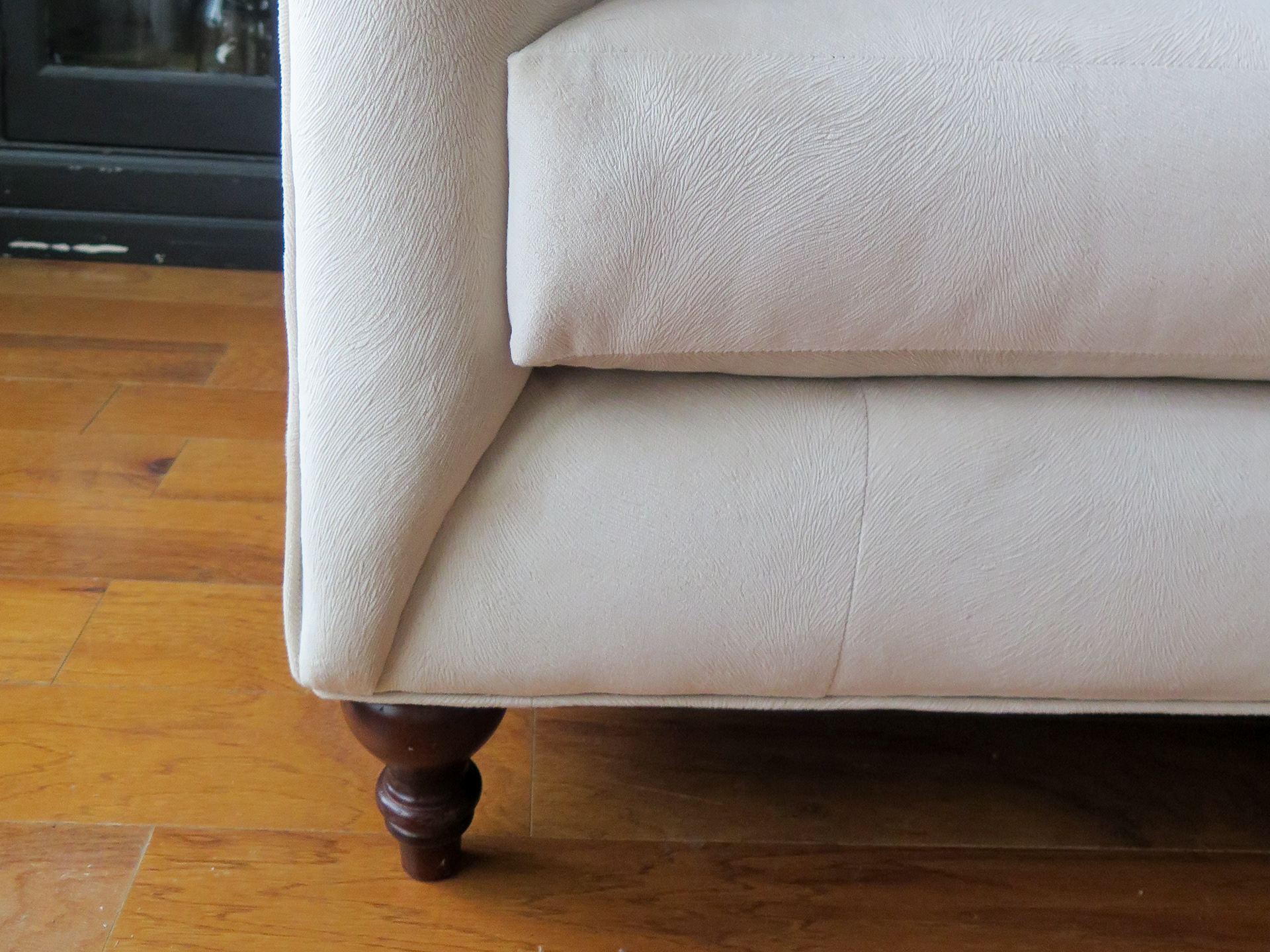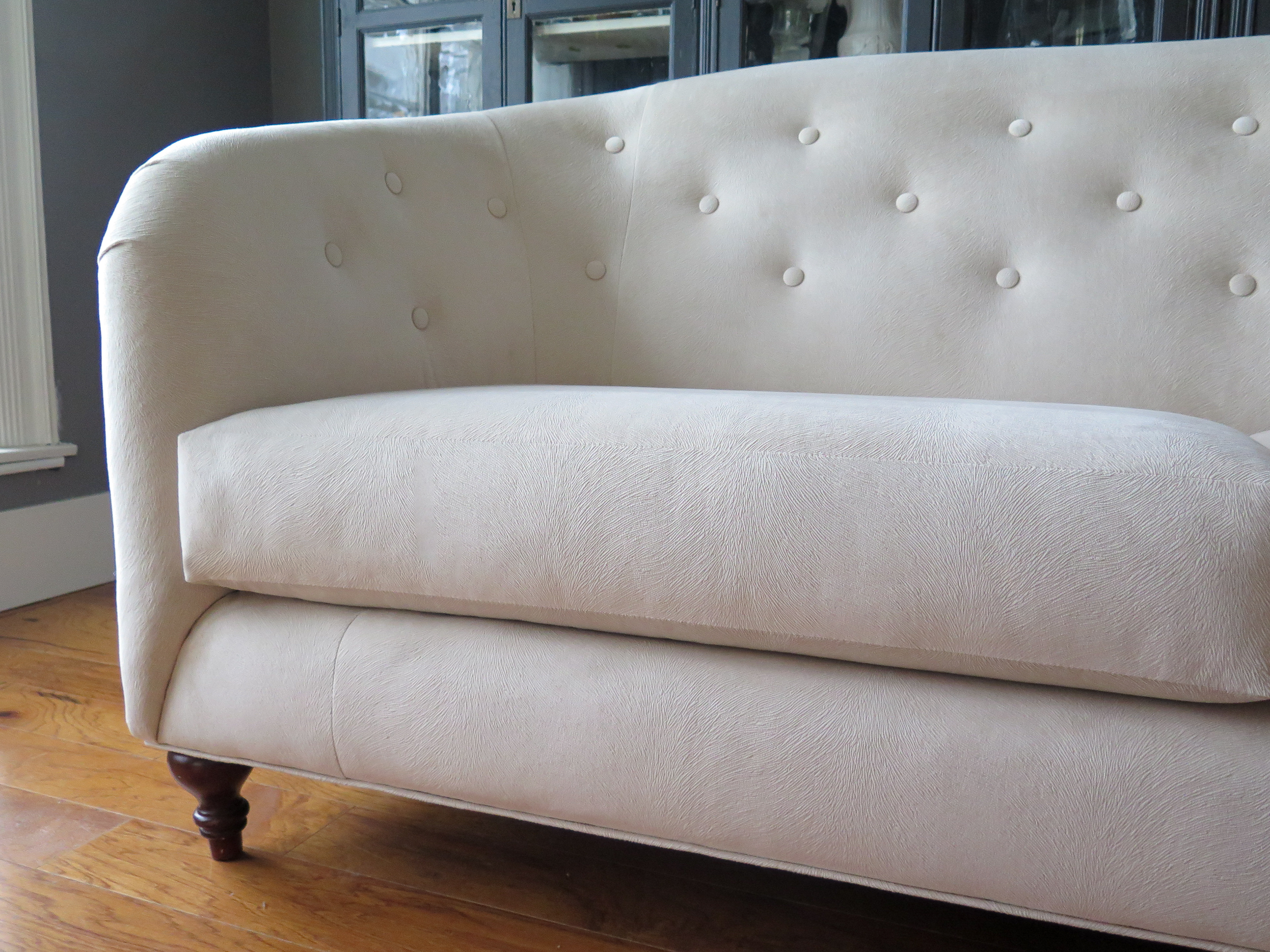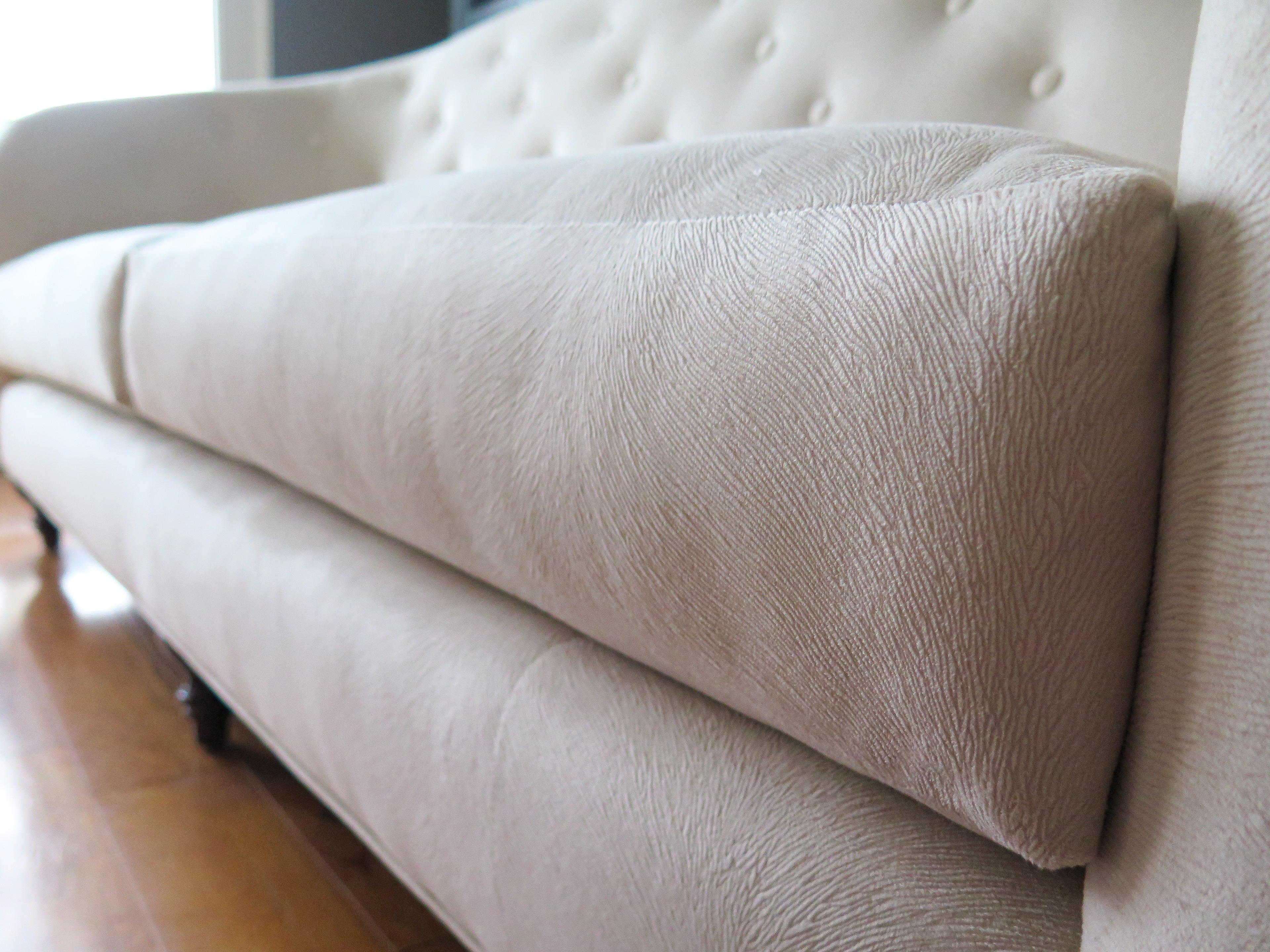 49 Coffee House and Eatery
Do you like coffee? Because I do. I recently had the privilege of doing some work for my local coffee shop in Springville. 49 Coffee House called and needed some new bench seats as theirs had seen better days.  We pulled them out at close of business 7 pm, I worked late into the night to get them done (no business interruptions on my watch) and delivered them at 6:45am before they opened to happy clients. Big thanks to Kevin and Lindsay of 49
Coffee House & Eatery for the work! Keep the coffee flowing.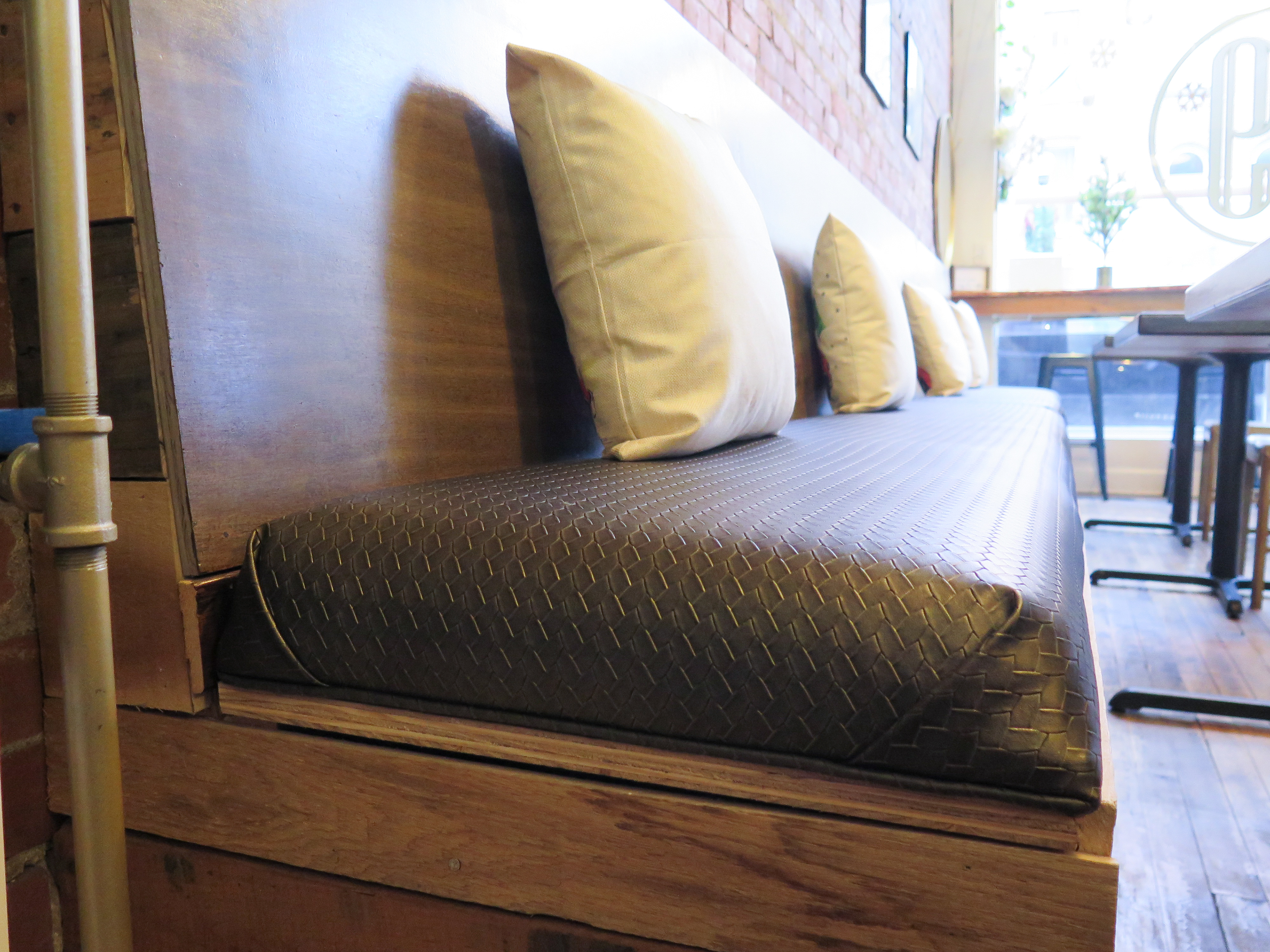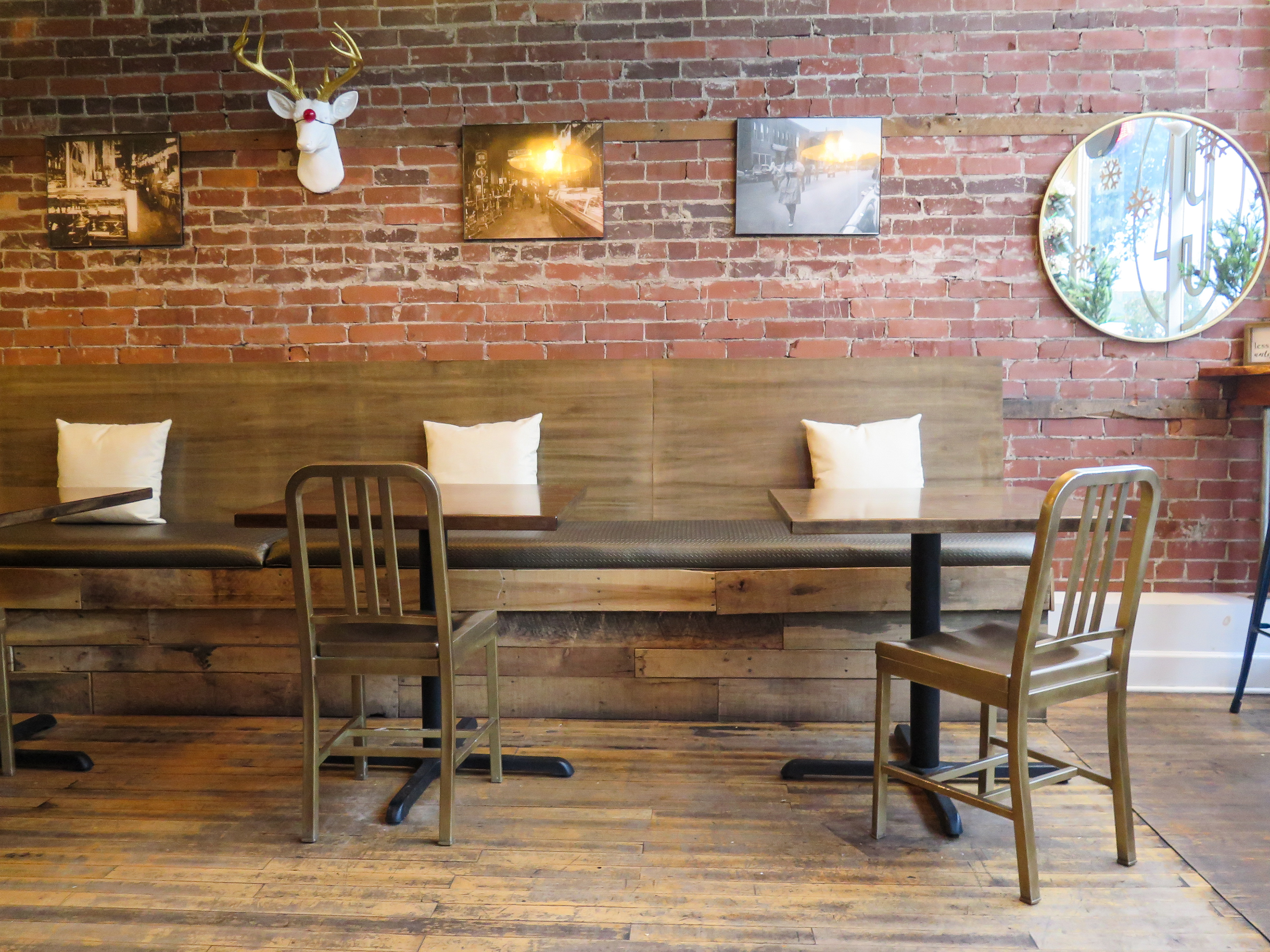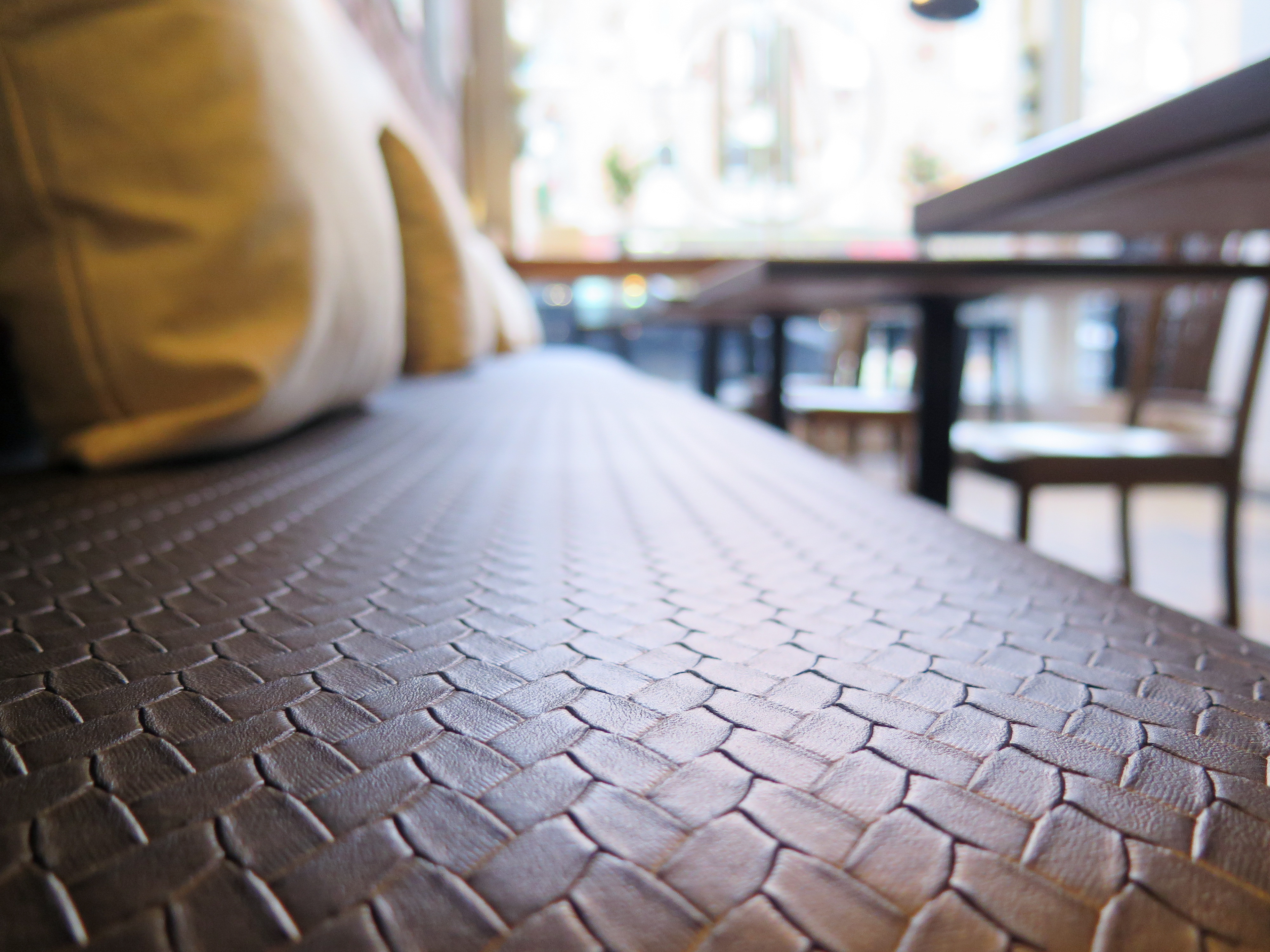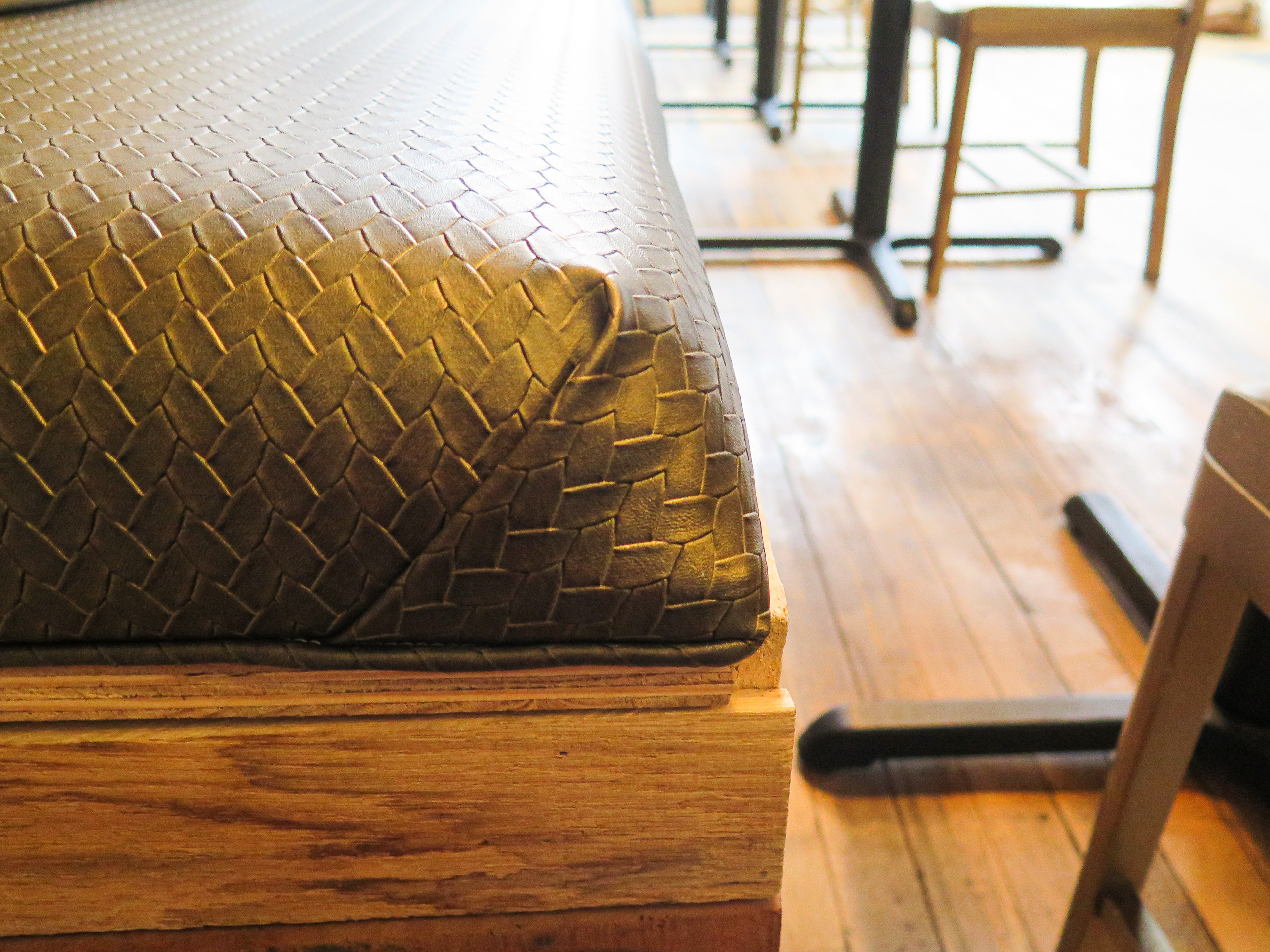 Josephine
The furniture we source and restore often has a colorful history Like this Beauty —> Meet Josephine. Her life began in a speakeasy. Think flappers and feathers and illicit libations 🍸 After a time she was adopted by a theater group and used for years onstage. It is here we enter the story. This Grande Dame had gracious proportions with elegant swooping lines and gorgeous hand-carved details. She required a full restoration to bring her back to life and ensure she would serve her next owner for many years to come. She features 8-way hand tied springs, all hardwood frame, soft gray linen blend fabric from Kravet, deeper seating than typically seen in sofas this age as well as hand-carved moldings. She is ready to go on to her next home.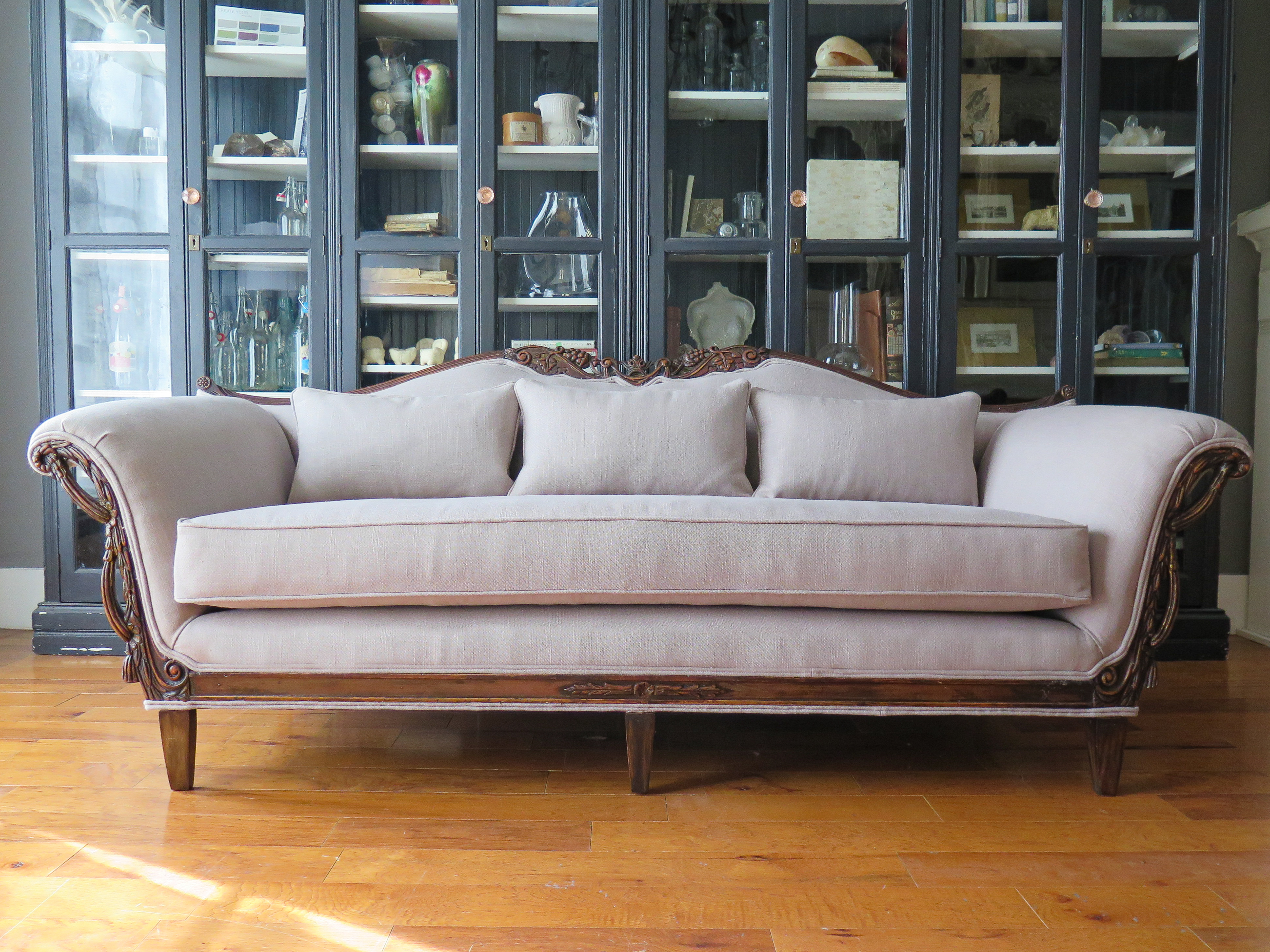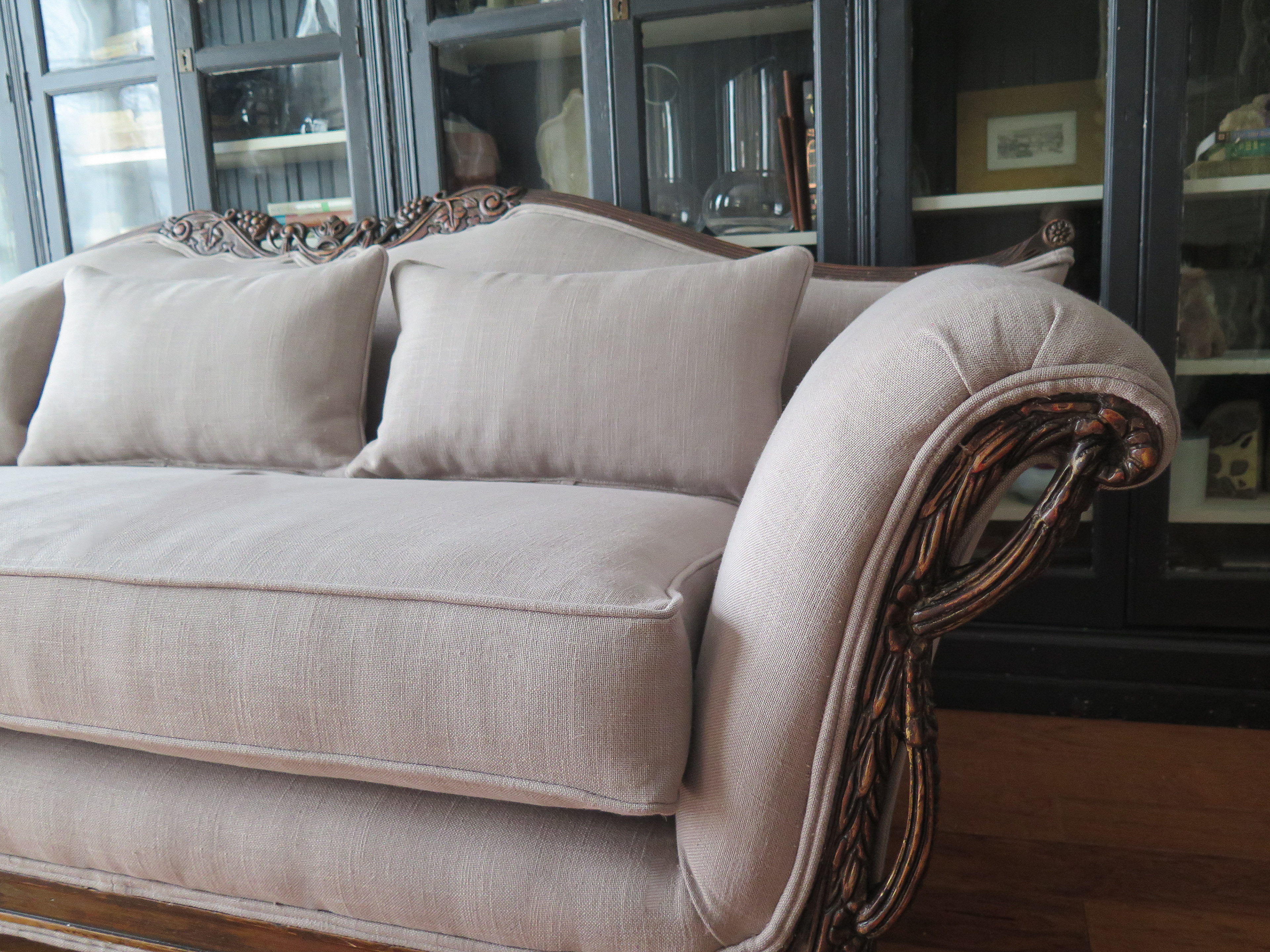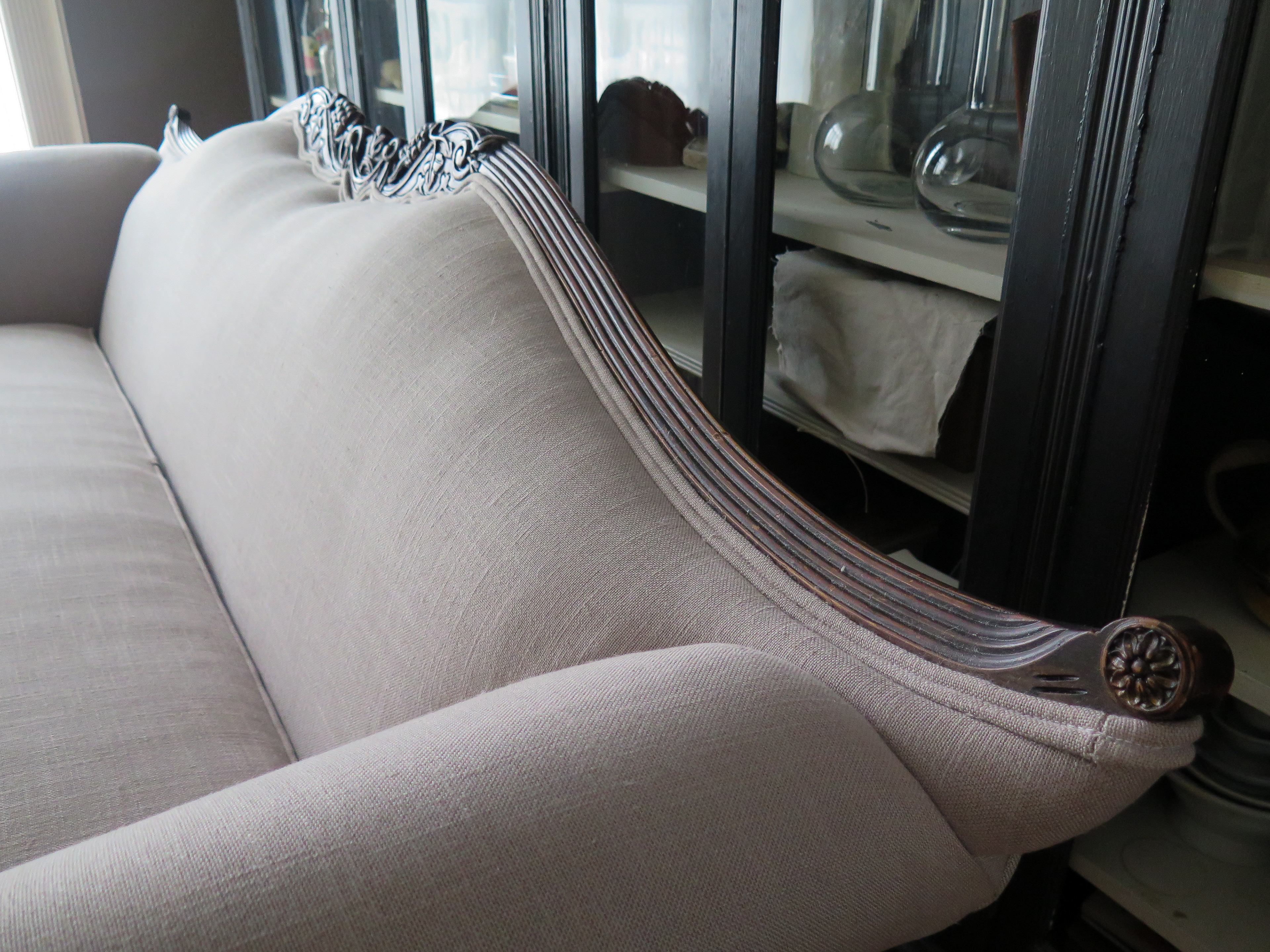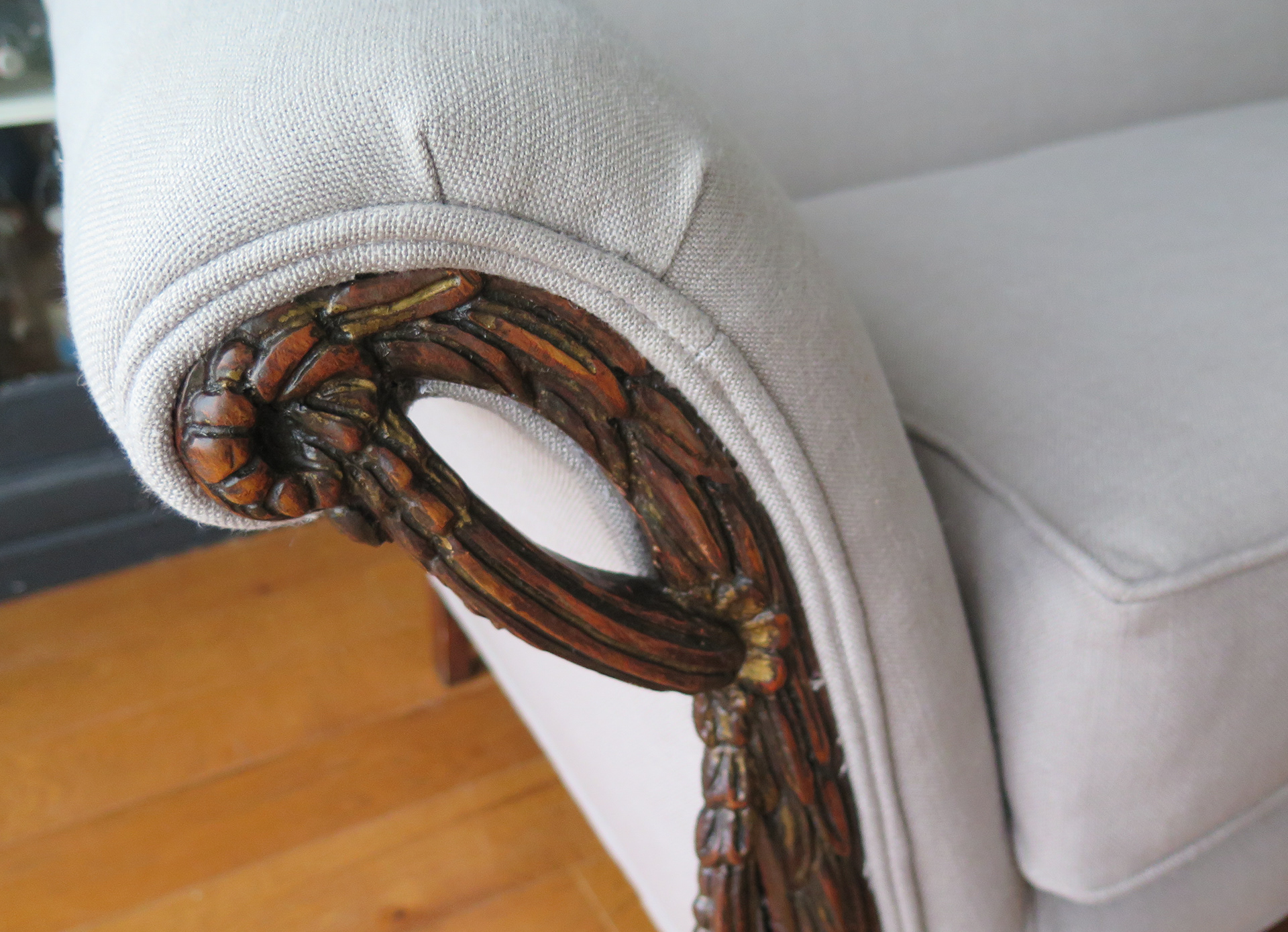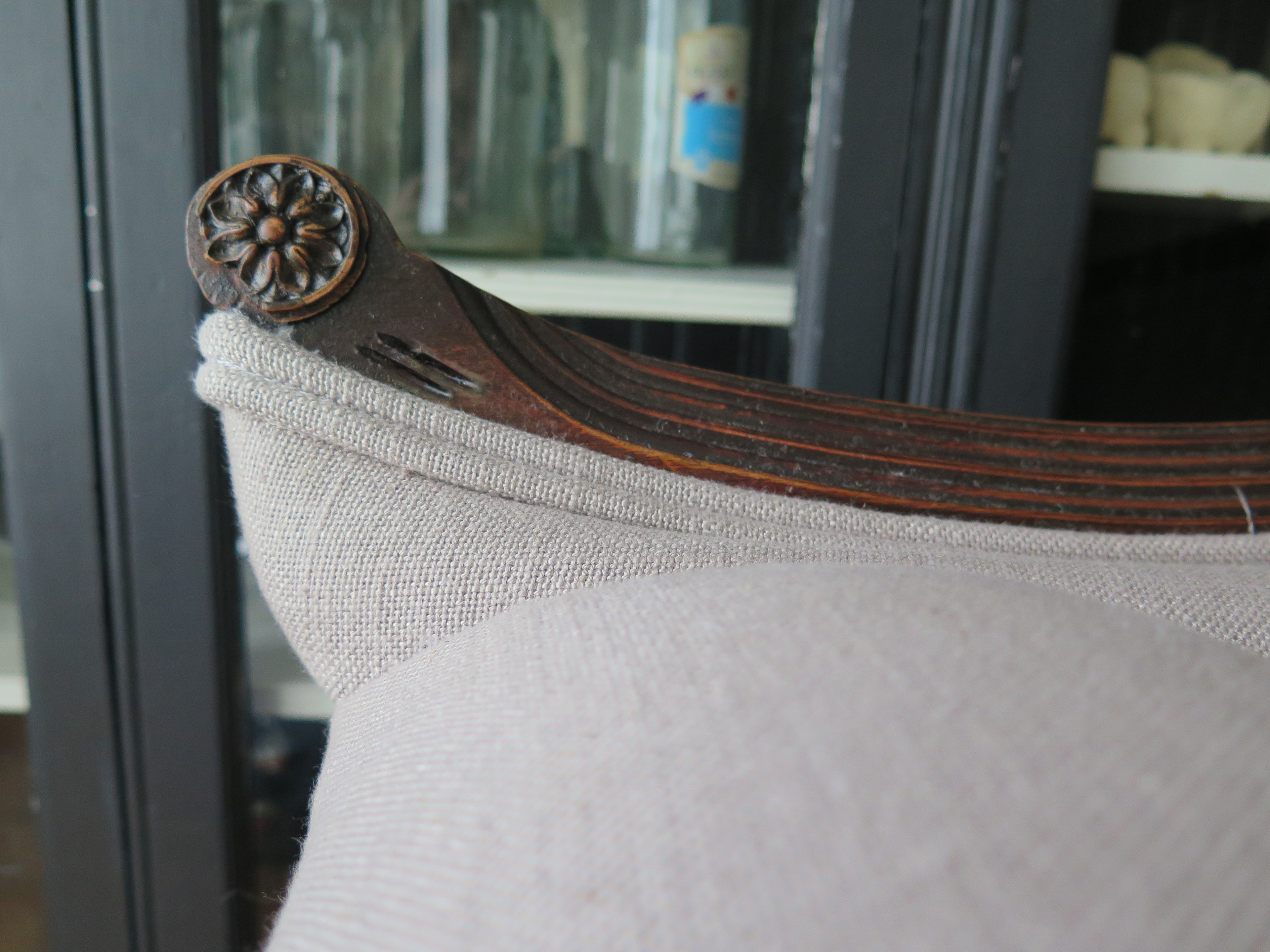 Meet McKinley.  This handsome fellow can be seen at @overwinter new coffee house on Elmwood in Buffalo and features a true black velvet from @schumacher.  This sumptuous fabric was paired with a turn of the century frame that was completely rebuilt and the result is a piece that is Lovely, Dark & Deep.  Simultaneously understated and decadent it was a pleasure to work with Josh & Jenny on this gent!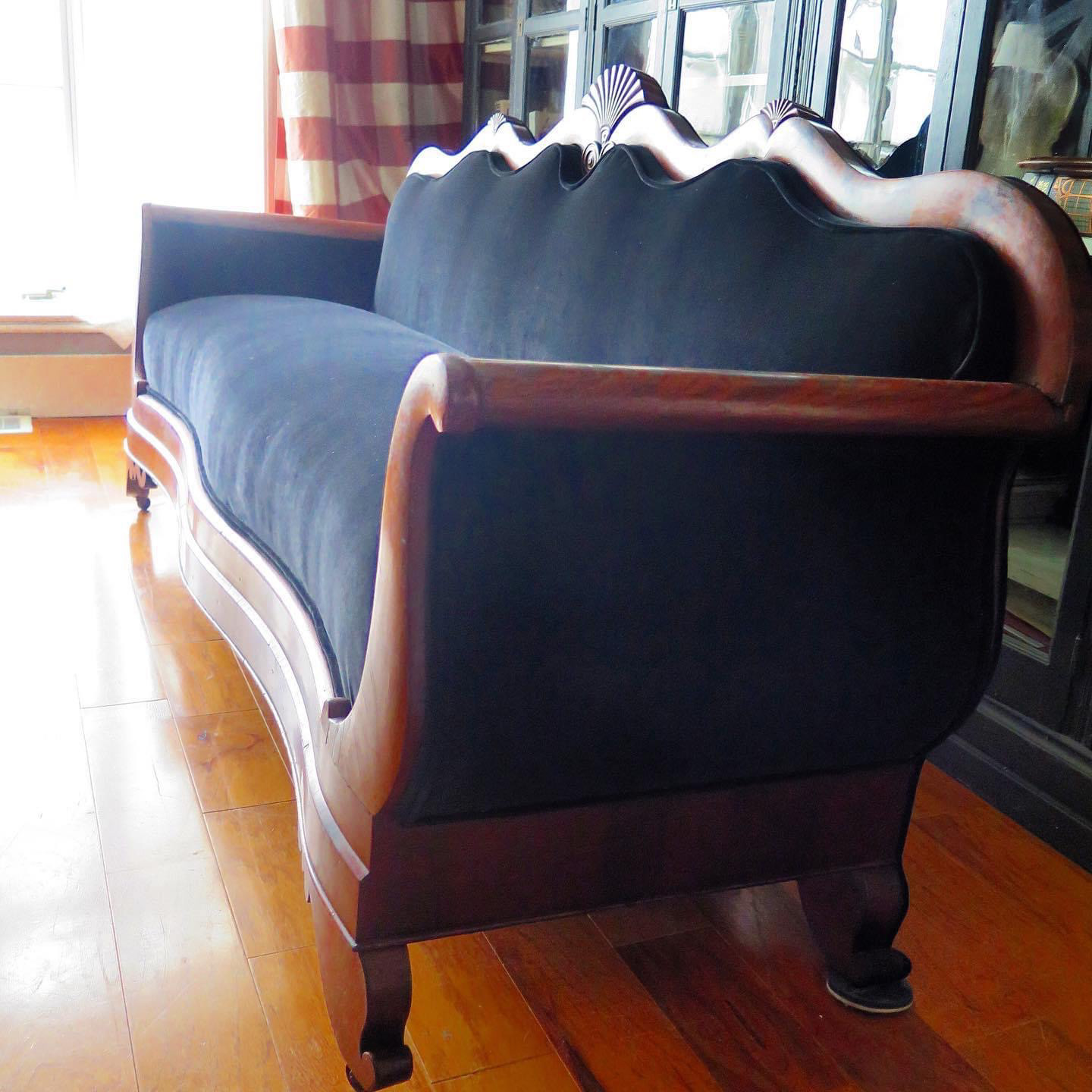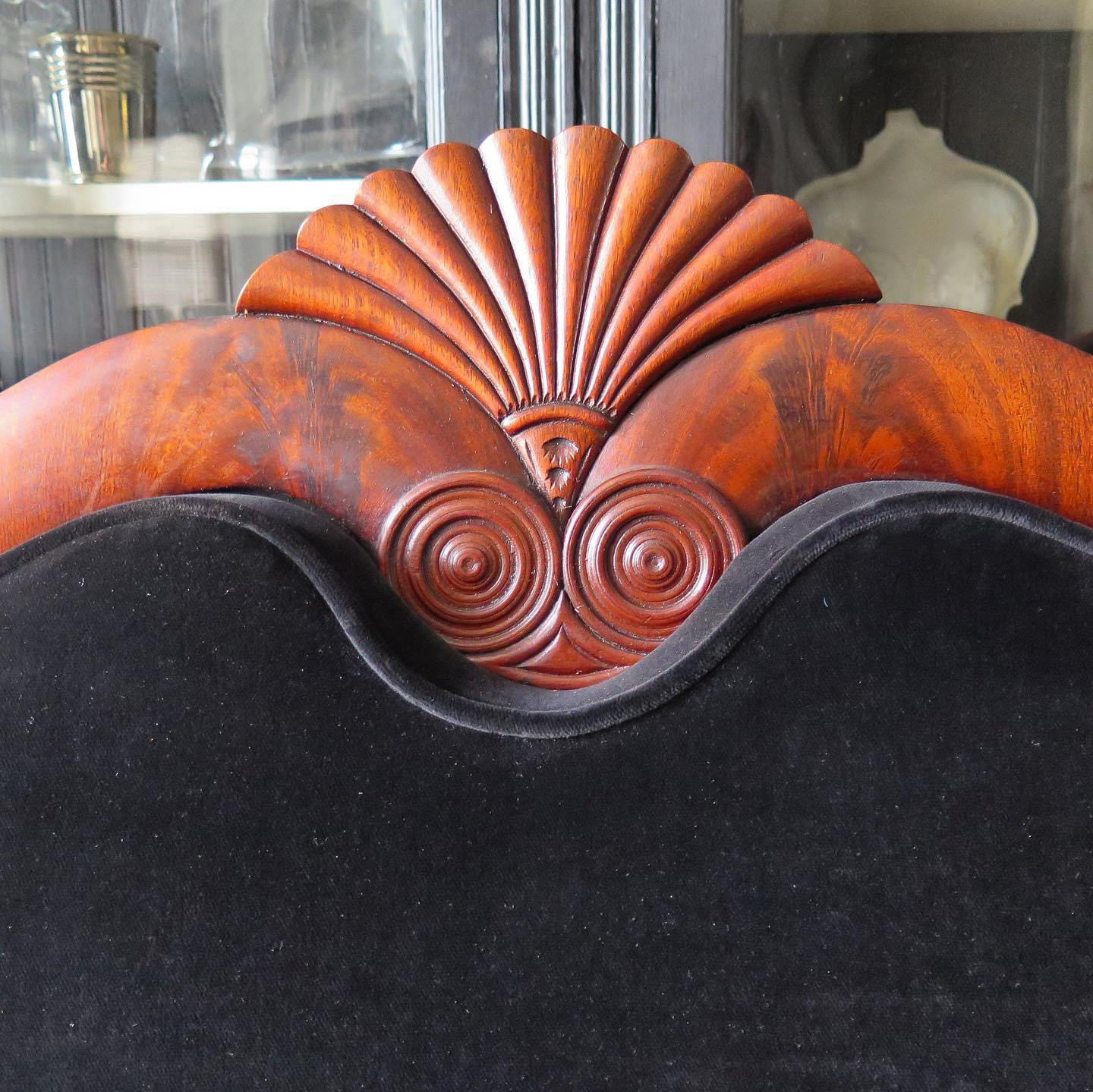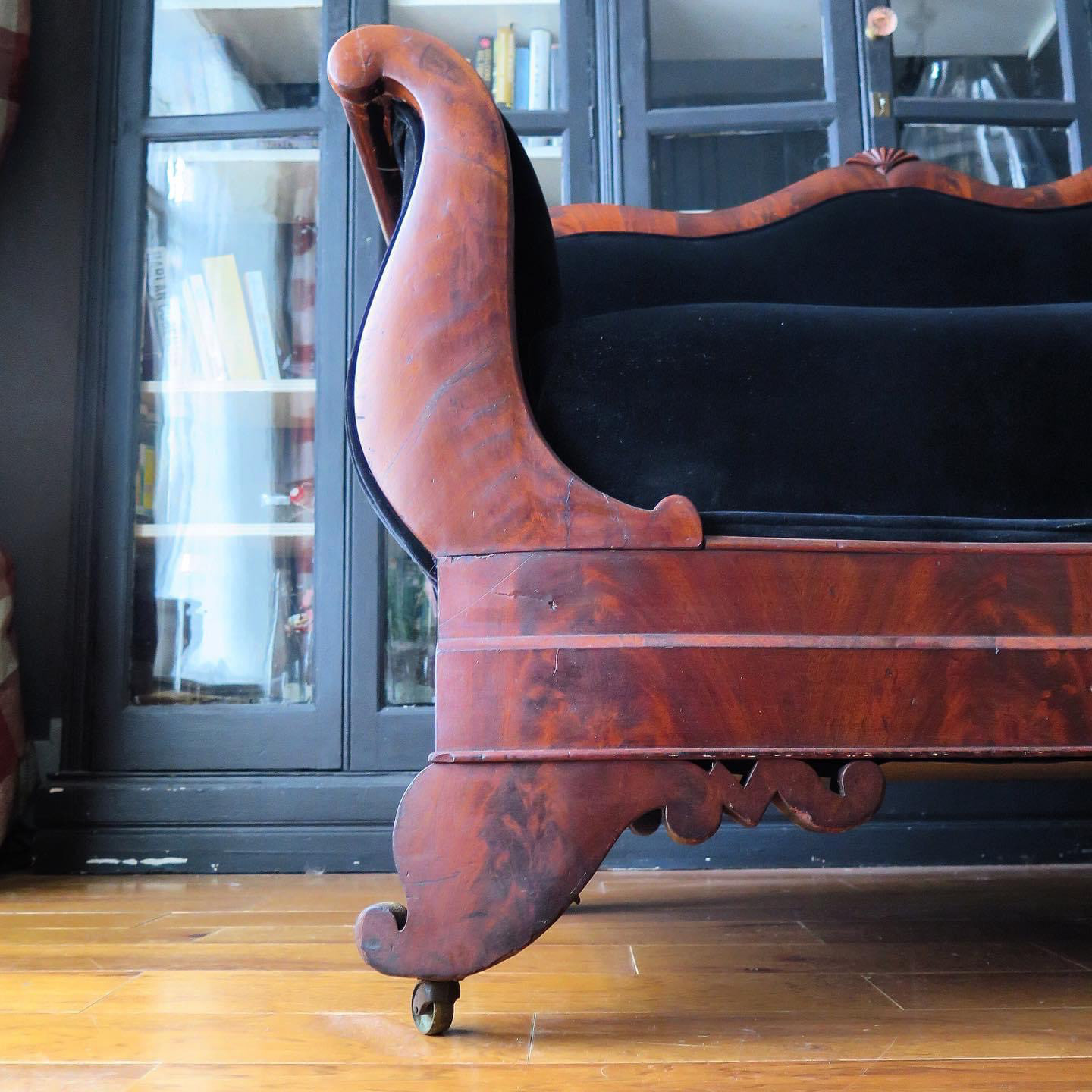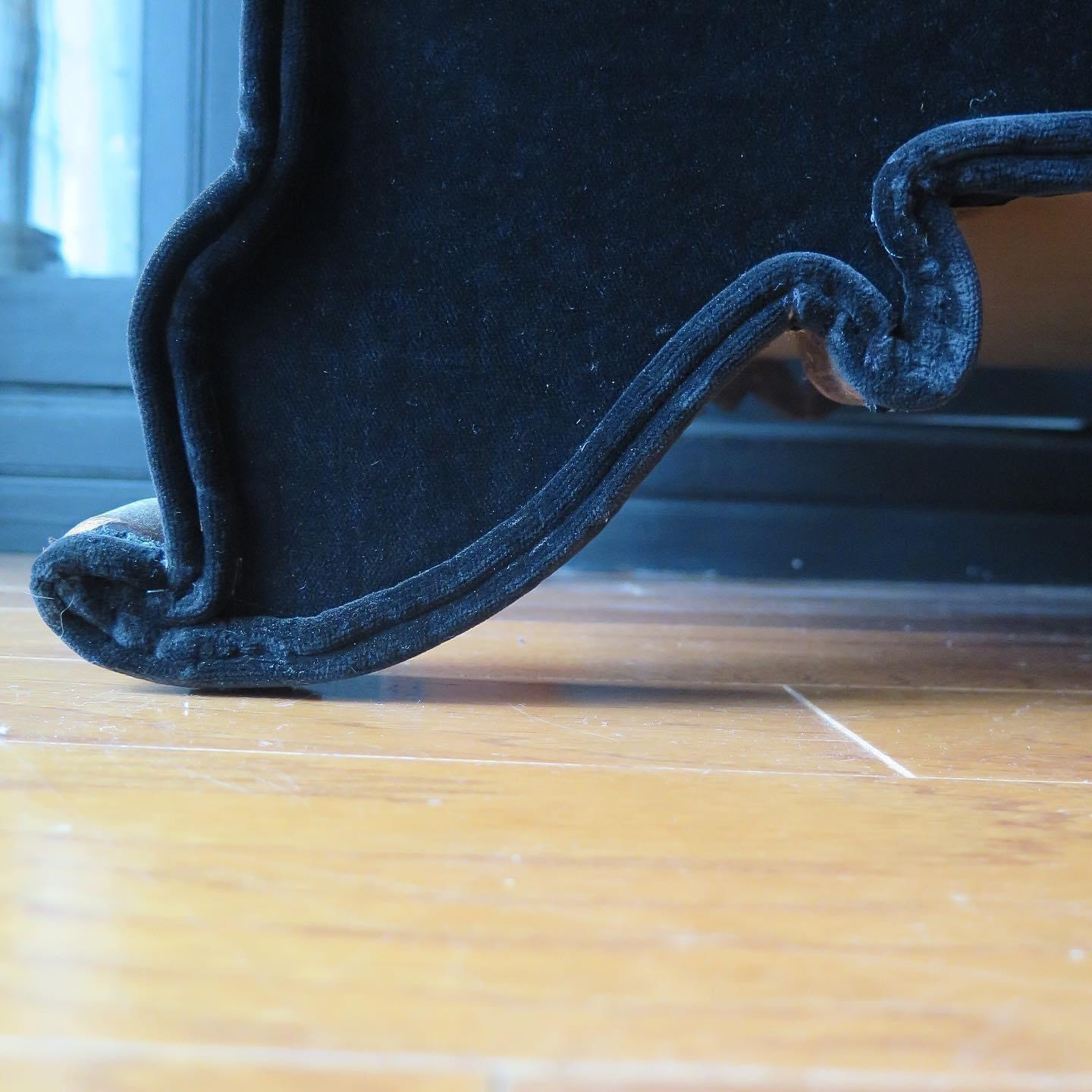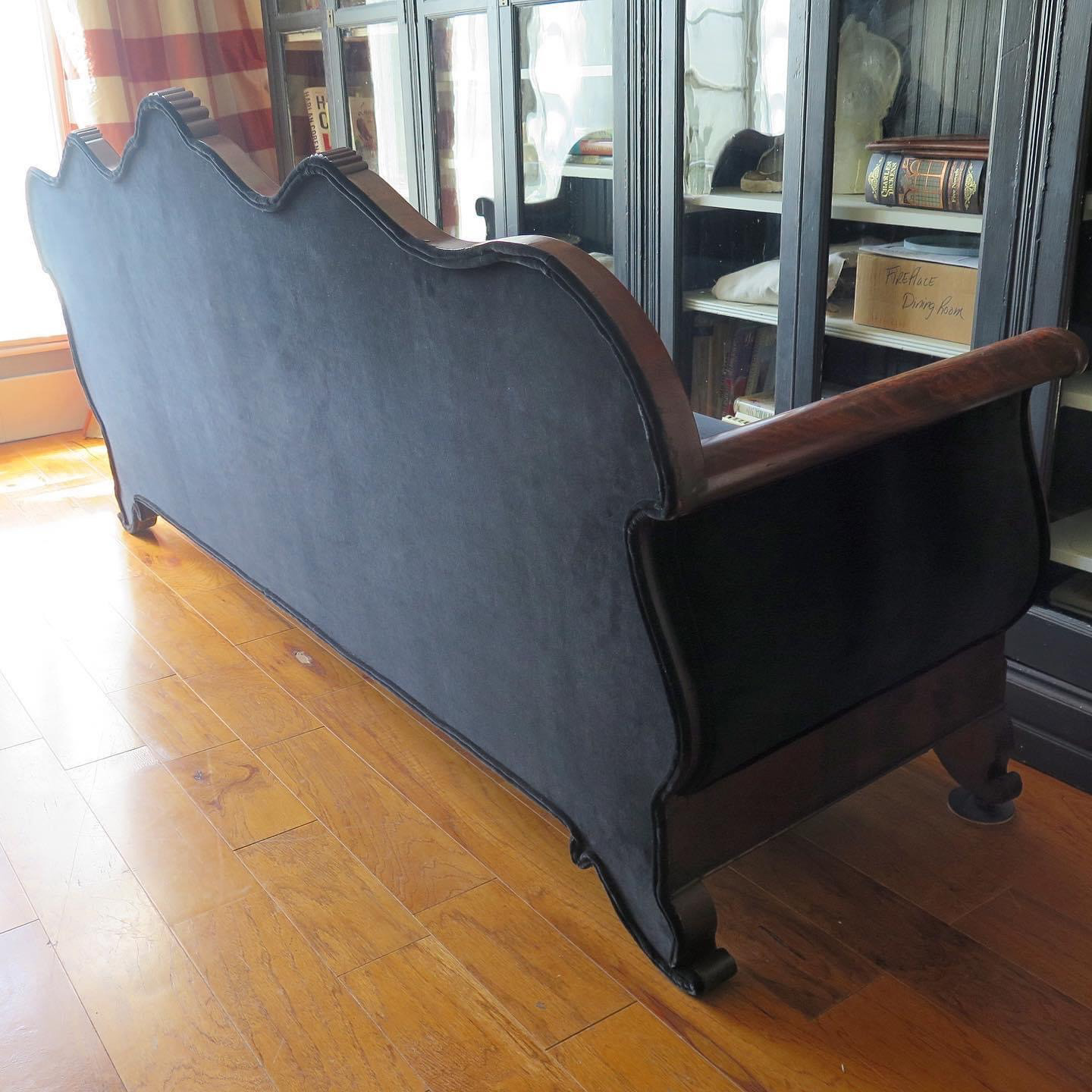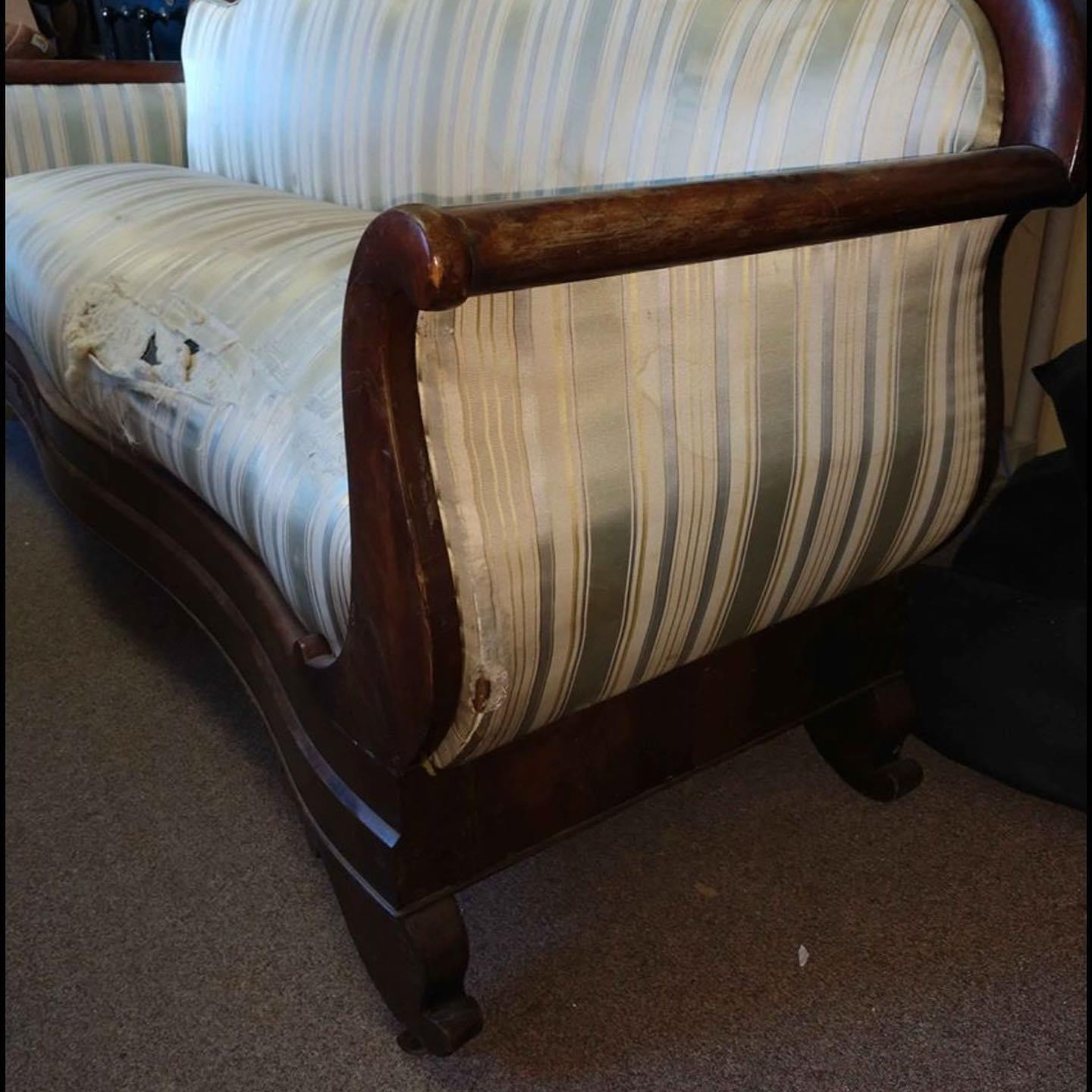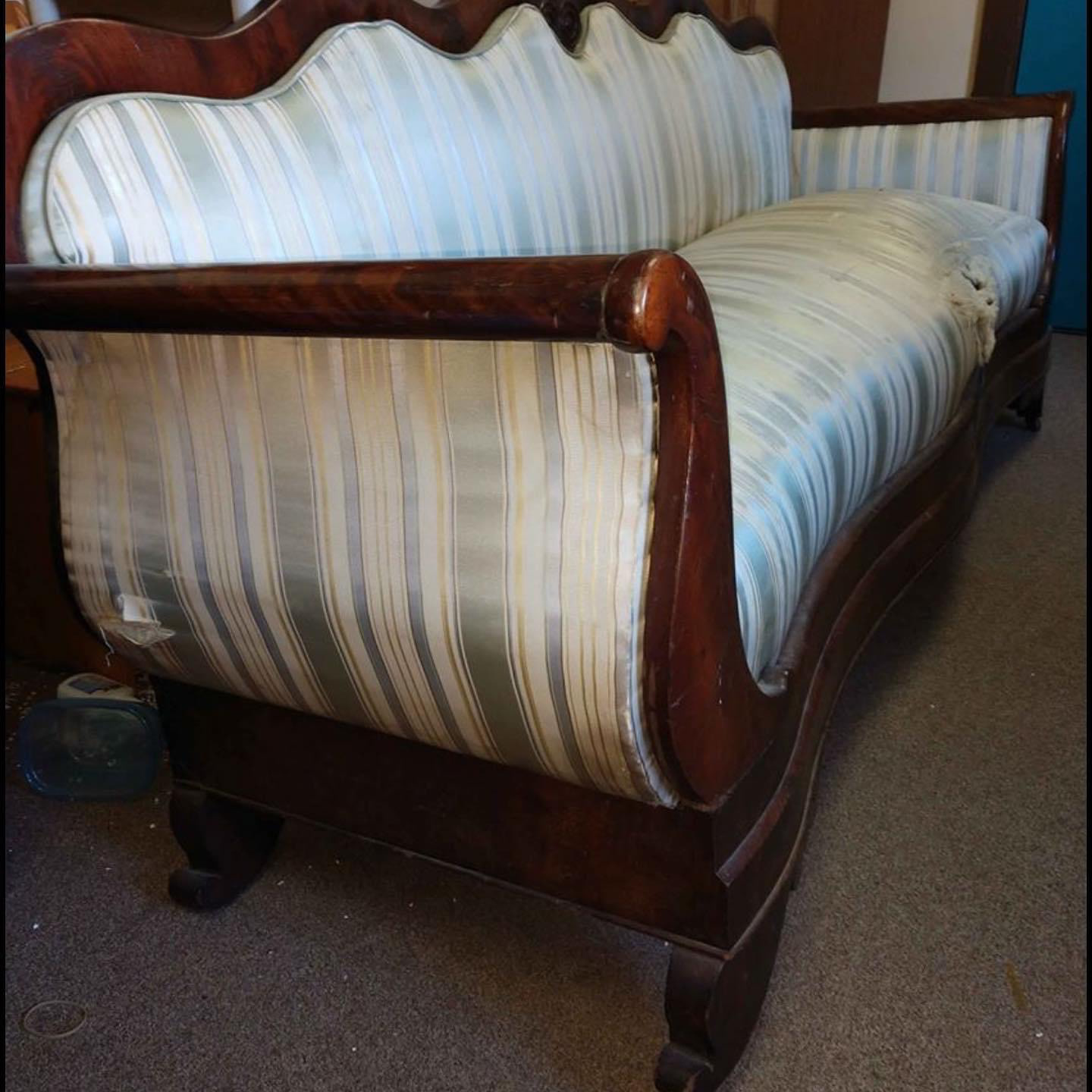 Meet Edith,  This beautiful walnut Eastlake chaise lounge was in sad shape when we rescued her.  We wanted her to express a quiet gentility - a soothing presence from a bygone age with a modern sensibility to live comfortably now.  Who doesn't need a bit of civility in this crazy thing called life?  Enter Edith, this Victorian fainting sofa.  Her handsome frame was restored with a beeswax finish and the fabric is a medium pile velvet (which won't crush and look shabby).  She features double piping instead of gimp because this girl doesn't need to shout.  Yet she is perfectly at ease with a gorgeous patchwork Scalamandre Le Tigre pillow.